The Ecofriendly Coffee forests are blessed with hundreds of species of butterflies. Some species are endemic and are only found in a specific region. In our earlier studies, we have documented the ecological role played by Butterflies in the coffee ecosystem. This paper probes the vibrant colors and patterns or the lack of it in the butterfly world. As students of Biology, we were curious to learn as to why some species of butterflies are brightly colored and a few lack colors. Do the vibrant colors and patterns in butterflies' have any significance in the life cycle of the insect! Does it in any way help us connect the dots with insect evolution,which may help us throw light on the emergence of both beneficial and harmful insects in the coffee ecosystem ?. Vital clues hidden in these delicate winged beauties, in our opinion may throw open the flood gates in understanding entomology altogether, in a new perspective.
Eye Spot Markings
Eye spots are often suggested to effectively alarm predators.
Random wing patterns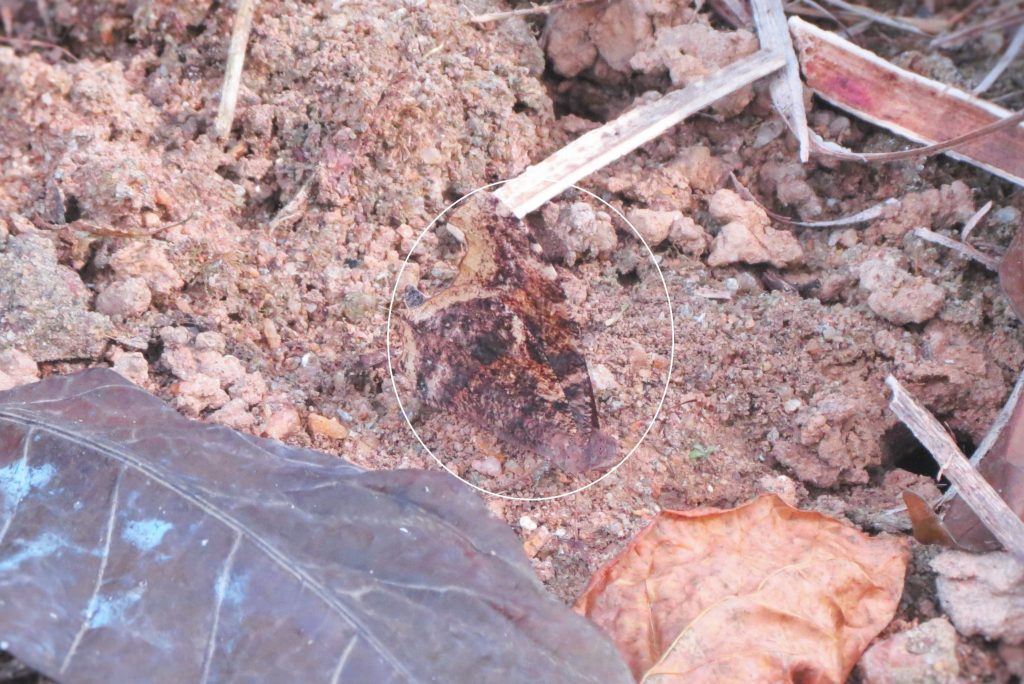 We have noticed quite a few ground dwelling butterflies with random wing patterns which seamlessly blend with the environment making it impossible to detect the butterfly even at close quarters.
Camouflaging
Many entomologists involved in the study of butterflies are of the opinion that the colorful wings of butterflies are designed so as to assist the insects by camouflaging such that they are difficult to spot.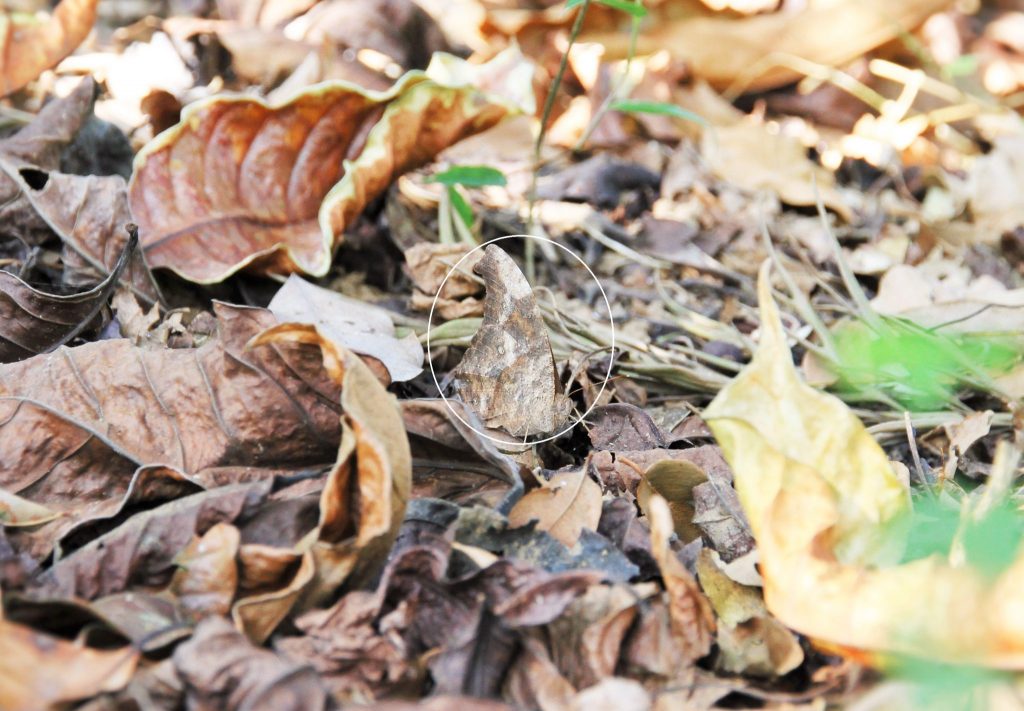 Warning Signals
Some species of butterflies exhibit significant warning colorations that scare off potential predators. This popular technique, known as aposematism, is for a butterfly to advertise its toxicity to predators by exhibiting warning colours. For instance, the Indian leaf butterfly (Kallima paralekta) is nearly impossible to spot when it is nestled among leaves.
Mimicking
Many non-poisonous butterflies mimic other butterflies which are poisonous. This helps them avoid predation. The adult monarch sports a bright orange colour and distinctive pattern, a red flag to potential predators that it's distasteful and toxic. Another species called the viceroy has even evolved to mimic the monarch's appearance so that predators keep their distance.
Disguise
A few species of butterflies blend with Nature and it's almost impossible to spot them in the local environment. This gives them a chance to stay hidden and escape danger from predation.
Sex Determination
Many butterflies also have ultraviolet colours on their scales as well. Although humans cannot see these colours, butterflies can. Many times butterflies are able to distinguish sexes by these additional colours on their wings. Female butterflies prefer males bearing bright iridescent ornamentation. Butterflies rely on colour in every aspect of their lives which involves sparring, courting, breeding and hiding.
Temperature Regulation
Also, one has to understand a very important fact about butterflies is that they are ecotherms. Since they're cold-blooded, they can't regulate their own body temperatures.  They need to warm their wings to an optimum temperature of about 85 degree Fahrenheit to efficiently fly. They need external sources of energy like sunlight to warm them. Hence, colour of wings plays a crucial role in regulating the body temperature of butterflies. Butterflies gifted with dark colours can quickly warm themselves in cooler climates when exposed to sunlight. Colour helps the butterfly with their temperature control. Dark colours absorb more heat, than light colours. Some butterflies such as the Blues have a shiny underside to their wing, which can help them reflect heat.
Conclusion
Butterfly wing colors and patterns can teach us many important aspects of insect survival techniques in the insect kingdom. It also throws light on the evolution aspect and provides vital clues as to how quickly wing patterns emerge. It is evident that the color pattern variation from species to species has a definite role to play in the protection of the species.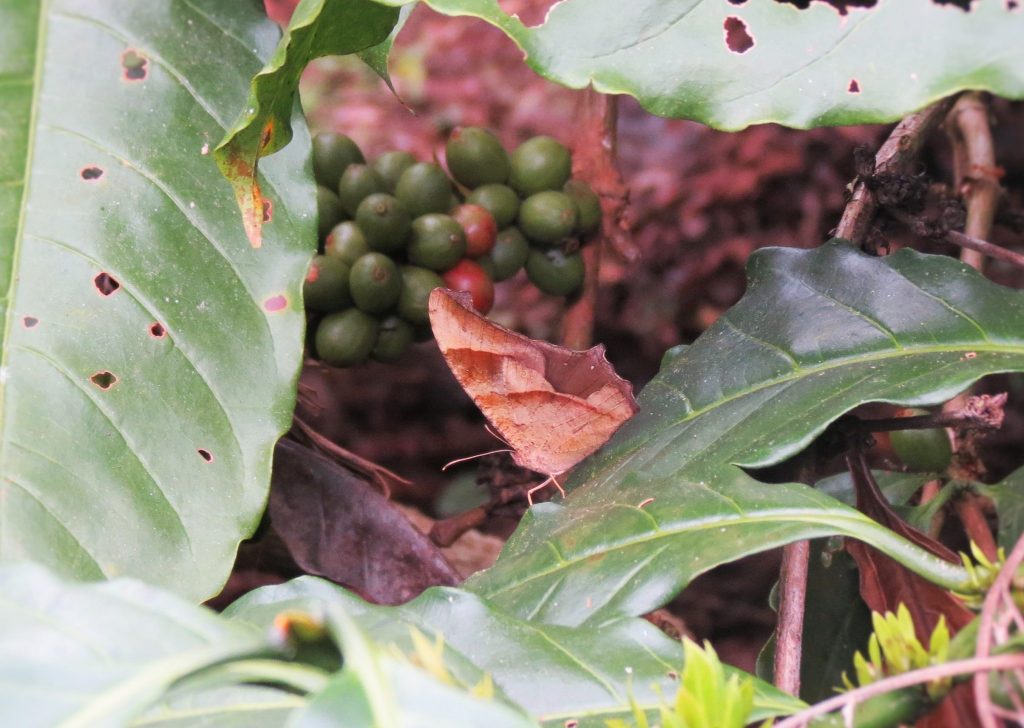 Understanding the diversity of wing colours will enable scientists to learn more about butterflies and how they adapt to changes. This may be critical to their existence. As science continues to learn more about these incredible flying jewels, they find more possible applications for innovations in technology that will benefit mankind. We all need to live in a coexistence world where the actions of one will provide opportunities to the other.
References
Anand T Pereira and Geeta N Pereira. 2009. Shade Grown Ecofriendly Indian Coffee. Volume-1.
Bopanna, P.T. 2011.The Romance of Indian Coffee. Prism Books ltd.
Why are butterflies so colorful?
Butterfly wings' 'art of blackness'