The Cotton pygmy goose, also known as Indian pygmy goose or cotton teal is an environmental indicator species and is an almost entirely aquatic species.
 The idea of highlighting the presence of the Indian Cotton Teal is to bring awareness to the Planting community to make use of various indicator birds as a tool in environmental monitoring to diagnose the health of the coffee ecosystem.
 Indicator species can reflect a unique set of environmental qualities, like quality of water bodies, levels of pollution both air and water and also macro and micro climate.
Indicator species are a useful management tool to monitor pollution or climate change.
They act as radars or early warning systems in detecting unexpected changes in the environment or a given localised ecosystem. of impending danger in terms of floods, drought or disease out break, Birds are said to be good indicators of environmental changes.
Scientific Classification
| | |
| --- | --- |
| Kingdom | Animalia |
| Phylum | Chordata |
| Class | Aves |
| Order | Anseriformes |
| Family | Anatidae |
| Genus | Nettapus |
| species | coromandelianus |
| Binomial name | Nettapus coromandelianus |
| Subspecies | N.c.coromandelianus |
Description
Male
The upper wings have a metallic green sheen contrasting with the general white hue of the head and under parts. At times the glossy green back appears black in dull light. A broad black necklace like band is very distinctive.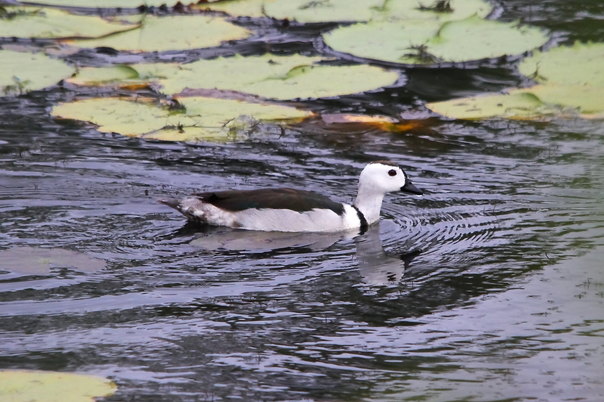 A white patch on the pinion quills is noticeable only during flights. In breeding season the male has a black band around the base of the neck.
Female
 The female is not as colourful as the male with brown above and shades into white below. The distinctive feature is the dark speckling around the neck region. The dark eye streak as well as a dark cap is also visible.
Both the male and the female have a rounded head with short beaks, short legs and large feet.
Distribution/Range
 The Indian Cotton Teal occurs in greater abundance in almost all Agro climatic regions associated with coffee. These birds are largely resident.
Breeding/Nesting
The cotton teal is a cavity nester that uses hollows of mature trees at close proximity to water bodies like lakes and ponds. The species is likely to be monogamous. Indian Pygmy goose males do not attain full breeding plumage until their second year and they also have a very distinct eclipse plumage when the male closely resembles the female.
Cotton teals breed throughout the rainy season starting from July to September. 6 to 10 eggs are laid in the hollow of a tree trunk and take approximately 23 days to incubate. The eggs are ivory white in colour. At times the birds make a nest closer to the bank lined with dry grass and feathers.
The eggs are elliptical in shape and cream in colour.
Calls/Vocalizations
The male often calls on the wing.
Diet/Feeding
The birds feed on young shoots and are mainly vegetarian in diet. At times tehey supplement their diet with crustaceans and insects too.
Habitat
The Cotton Teal is present in all ponds, lakes, rivulets. These birds choose water bodies covered with weeds and shrubs so that their young ones get excellent protection from predators. The male and female adults can be seen foraging in open waters and get quickly used to human habitation.
Conservation Status
The overall population trend is fluctuating, although some populations are stable and others have unknown trends
 We have made an in-depth study of these birds for quite a number of years and have recorded the following observations.
These birds are found in lakes and ponds with numbers ranging from ten to fifteen. However each batch consists of four to five birds separately feeding in different areas of the water body.
They adapt very well to the presence of other birds and can be seen foraging together with the bronze winged Jacanas, Common Moor hen, egrets and whistling teals.
They adapt very well to humans and can be approached within a few yards.
Juveniles and chicks are prone to aerial attack from birds of prey.
3.When alarmed they immediately take off with powerful wings but fly only short distances.
4.They twist round corners at high speed with amazing grace.
5. They are excellent swimmers and divers.
6.They feed continuously during the daytime making a loud clatter. They are surface feeders. During feeding one member of the team always looks out for danger.
7.Type of parental care is unknown.
8.We have never seen these birds resting on the banks or on land.
9.They roost on large trees at night time.
10. Their numbers have significantly declined on a year to year basis.
Conclusion
Our observations point out to the fact that the Indian cotton teal's population is vulnerable in coffee Agro climatic regions due to a number of factors. The foremost being tree felling of nesting trees.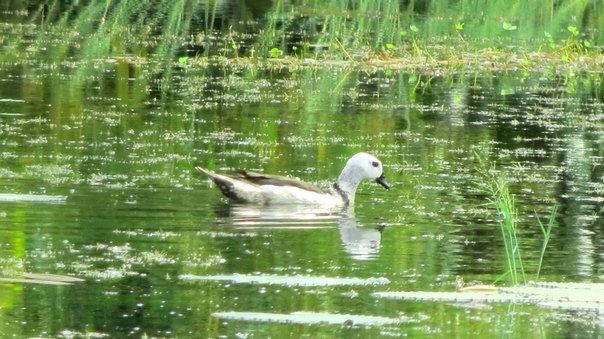 Another factor that may impact or affect the population in the future is the impact of global warming with unpredictable floods and droughts. Human disturbance and habitat destruction can also destabilize bird populations.
We need an action plan to support biodiversity which in turn will help protect the life support systems that not only ensure human well being, but support the rich variety of life on this planet.
References
Anand T Pereira and Geeta N Pereira. 2009. Shade Grown Ecofriendly Indian Coffee. Volume-1.
Bopanna, P.T. 2011.The Romance of Indian Coffee. Prism Books ltd.
http://en.wikipedia.org/wiki/Cotton_pygmy_goose