The Indian Peacock is a big majestic bird with a large wing span and is quite prevalent in almost all coffee growing regions of South India. Male peacocks are referred to as peacocks and the female peacocks are known as peahens.
The Peacock, Pavo cristatus (Linnaeus), is the National bird of India. It is a symbol of grace, joy, beauty and love. Peacock is a colorful, swan-sized bird with a fan-shaped crest of feathers on its head, a white patch under the eye and a long-slender neck.
| | |
| --- | --- |
| Kingdom | Animalia |
| Phylum | Chordata |
| Class | Aves |
| Order | Galliformes |
| Family | Phasianidae |
| Genus | Pavo |
| Scientific Name | Pavo Cristatus |
| Size (L) | 86m-107 cm |
| Wing span | 120 cm -300cm |
| Weight | 3-6kg |
| Life span | 15 years |
| Conservation Status | Least concern |
| Diet | Seeds Grains, Insects |
Peacocks as indicator of rain

In India people believe that whenever the peacock spreads its tails in an ornamental fashion, it indicates that rain is imminent. In a way it is partly true. At the sight of dark clouds the bird outspreads its tail and starts dancing in rhythmic fashion.

Distribution

Found wild in India (and also domesticated in villages) they live in jungle lands near water. They were once bred for food but now hunting of peacocks is banned in India. The peahen has no plumage. These birds do not sound as beautiful as they look— they have a harsh call.
Characteristics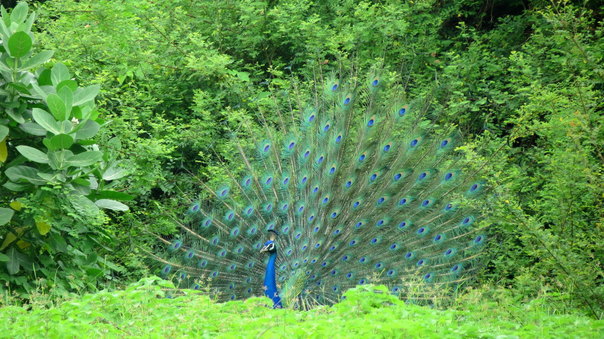 The male of the species is more colourful than the female with a glistening blue breast and neck and a spectacular bronze-green tail of around 200 elongated feathers. The female is brownish, slightly smaller than the male and lacks the tail.
Reproduction
During the mating season, the male peacock may mate up to 6 different peahens. The Female pea hen lays approximately 6 to 8 eggs, brownish white in colour. The female incubates the eggs for a month and takes care of the young without any help from the male.
Peacock occupies a respectable position in Indian culture and is protected not only by religious sentiments but also by parliamentary statute. It is fully protected under the Indian Wildlife (Protection) Act, 1972.
Coffee Ecology
An in-depth look at our earlier articles on shade coffee will enable the reader to understand that Indian shade coffee is traditionally grown under a canopy of native and introduced trees. The mosaic of trees, herbs and shrubs within the confines of the coffee forests, facilitates rich flora and faunal  biodiversity.
In this context, a few decades back, the structural integrity of the coffee ecosystem was intact and the coffee agro ecosystem was harmoniously managed with traditional cultural practices.
In the recent past, the continued cultivation of coffee in an ecofriendly manner is by no means assured. Many factors have contributed to this decline.  Higher input costs, impact of climate change, pest and disease incidence and erratic International coffee prices. This has forced the coffee planters to open up their shade levels to less than 30 %. In the face of these financial pressures, protecting biodiversity is taking a back seat. The only option before the farming community is to have policies and programs that adequately compensate them for safeguarding biodiversity.
However, with decreased profits and with a view of increasing yields, there is  amplified pressure on land, and a significant portion of the landholdings are transforming their plantations into industrial plantations by chopping off trees or retaining only one third the original tree population.
This trend will no doubt have negative consequences for the coffee ecology as well as the ecology of the sensitive Western Ghats which houses these coffee plantations. In the years to come, this picture will get more complex.
Significant Observations in Coffee Plantations of Hassan District
We have observed three major kinds of habitat loss inside shade grown ecofriendly Indian coffee.
Habitat Destruction includes converting wetland paddy fields into oil palm or areca nut plantations.
Habitat fragmentation includes coffee habitats fragmented by dams, power lines, gas pipelines.
Habitat degradation includes disruption of ecosystem processes due to the introduction of invasive species.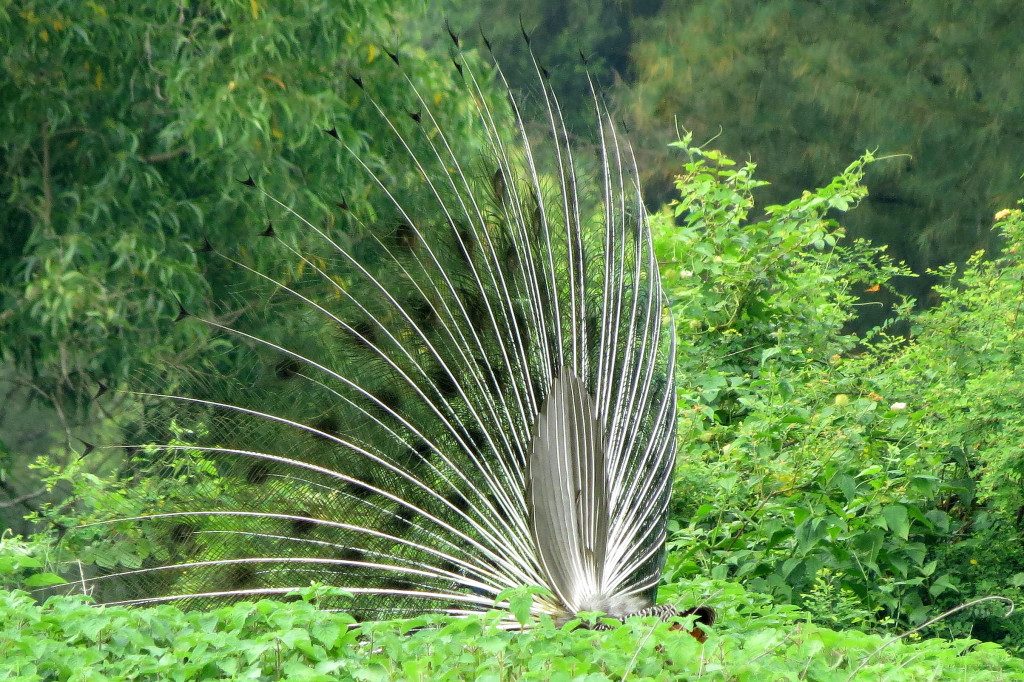 Land use change is one of the main drivers of current and likely future biodiversity loss. We have clearly observed one such impact. All these years when the coffee plantations in our District (Hassan District, Karnataka State, India ) was under the thick canopy of forest trees, peacock sightings were fewer.
Population Explosion
However, with the opening of plantations to sun, there was a significant expansion in the population of peacocks and today they are common site. This is definitely not a good sign. We are under the impression that a bird as big as a  peacock needs vast grass land to forage and due to the large scale deforestation associated with coffee, it is gaining ground as a resident bird at the cost of other local birds.
We are of the opinion that the Coffee Agro forestry system provides a large number of microhabitats, each of which supports a high degree of specific macro and micro organisms. In turn many other organisms are solely dependent on these microhabitats for an important part of their life cycle. Any imbalance, due to the increase in peacock populations can cause irreversible damage to the overall biodiversity inside shade coffee. Any increase in peacock populations beyond a sustainable number will have a negative impact on the coffee environment.
Conclusion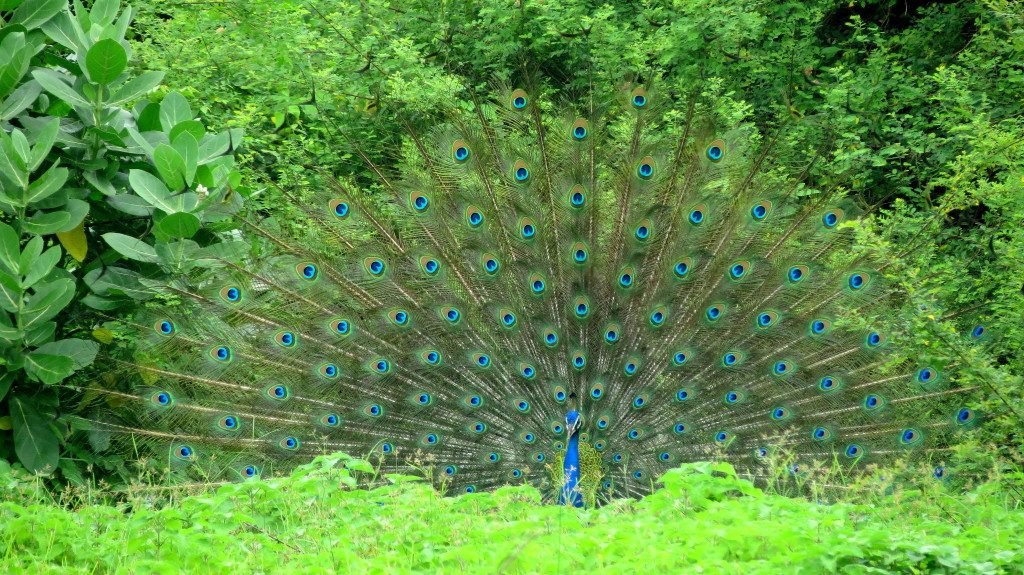 In the recent past Shade grown ecofriendly coffee forests have strongly been impacted by the impact of climate change as well as increasing pressure on forest and water resources. Our research studies on coffee forest ecology , has brought out the essential role of resident and migratory birds  in controlling various pest and disease populations and sustaining these populations affords many benefits to the overall health of the coffee ecosystem. At no point of time, should these bird species be displaced by bigger birds like the peacock which can pose a serious threat to the entire coffee ecosystem.
Many issues need to be approached with care and concern, including the lack of understanding on fragmentation or degradation of habitat due to logging activity and our lack of knowledge on bird population fluctuations and productivity. The coffee ecosystem is facing multiple threats from many different kinds of human activities. Each new threat puts additional stress on already weakened ecosystems and their wildlife. The essential role that birds can provide is to clarify important ecological concerns and variables that will not only help to sustain bird populations but also will contribute to the long term health of the coffee forest for all wildlife, including the coffee community. It is our fond hope that conservation of the coffee ecosystem and the species within them would help to maintain the natural balances disrupted by recent human activity.
References
Anand T Pereira and Geeta N Pereira. 2009. Shade Grown Ecofriendly Indian Coffee. Volume-1.
Bopanna, P.T. 2011.The Romance of Indian Coffee. Prism Books ltd. Perrins, C. (Ed.). (2003).