Shade Grown Ecofriendly Coffee forests are often referred to as Bird sanctuaries by foreigners for the simple reason that one can hear and see thousands of song birds and other species of birds nest inside shade coffee. The Coffee forest provides the right environment for a variety of both resident and migratory birds.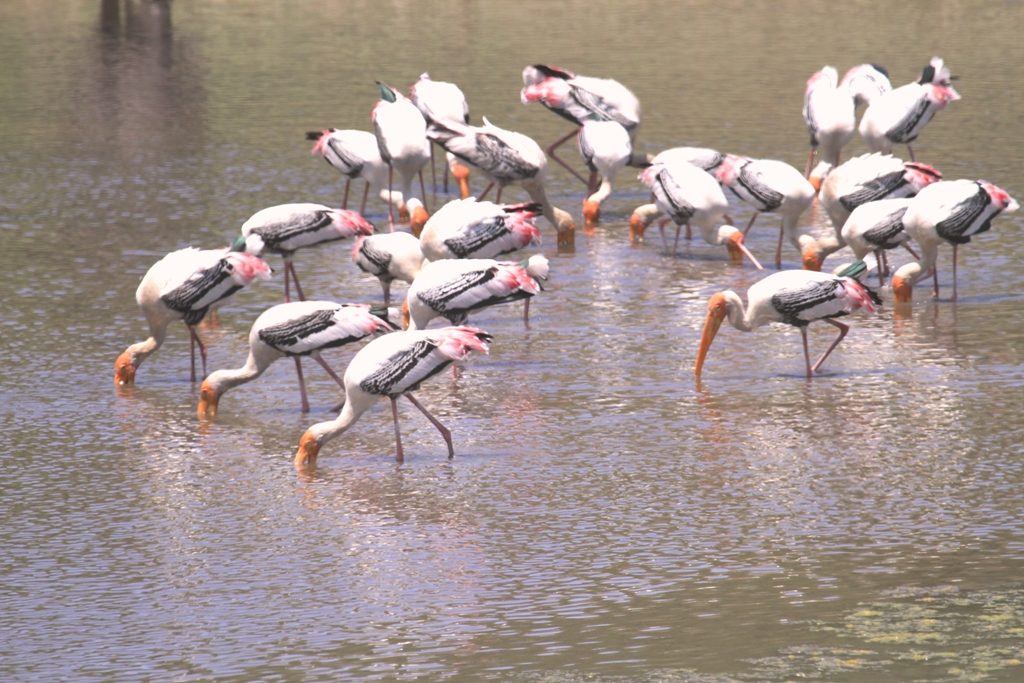 Migration can happen right in your own backyard. This simple article provides an opportunity for bird lovers inside shade coffee in the Districts of Hassan, Coorg and Chikmagalur to witness the arrival of the spectacularly colored, Painted Stork, a  winter visitor in  their very own back yard. Painted Storks are very good in adapting to new surroundings but require wetlands and marsh lands.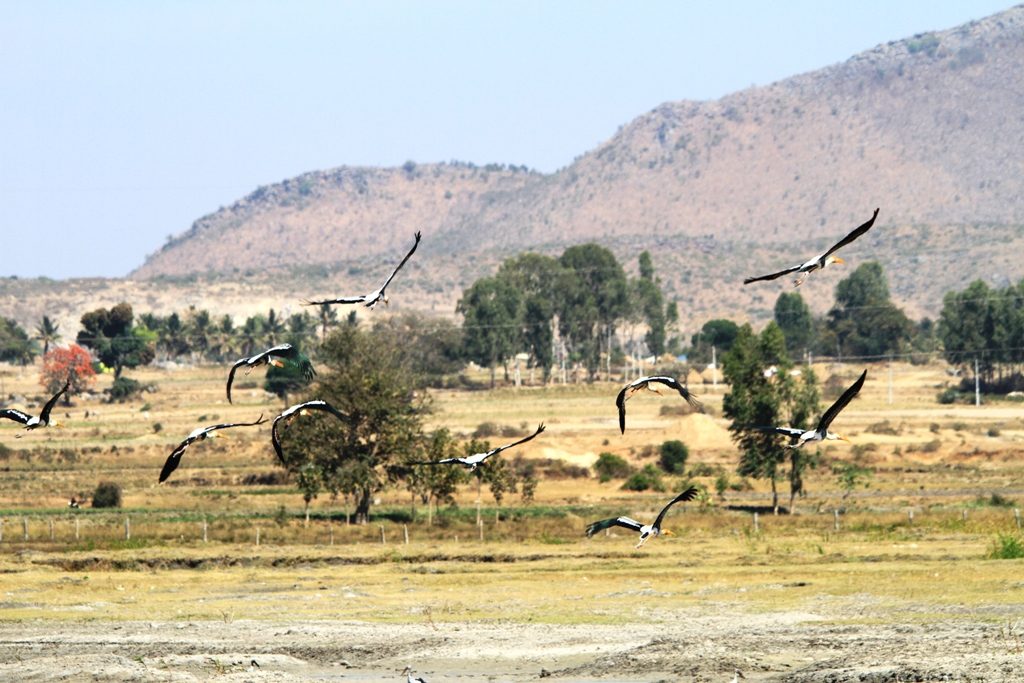 Description
The Painted Stork also known as Indian wood stork is a brightly colored bird with striking wing patterns. The male tends to have a larger body and bill than the female. The height of the bird is approximately 93-102 cm and weight is around 2 to 3.5kg.
The young are not as colorful as the adult. The adults have a long yellow orange bill and pink legs. They display white plumage with a rose color near the tail feathers. Non-breeding plumage is usually less vibrant than breeding plumage. Juveniles are pale brown lacking a pectoral band.
Male and Female
Males and females are not sexually dimorphic. Both the male and the female look alike.
Scientific Classification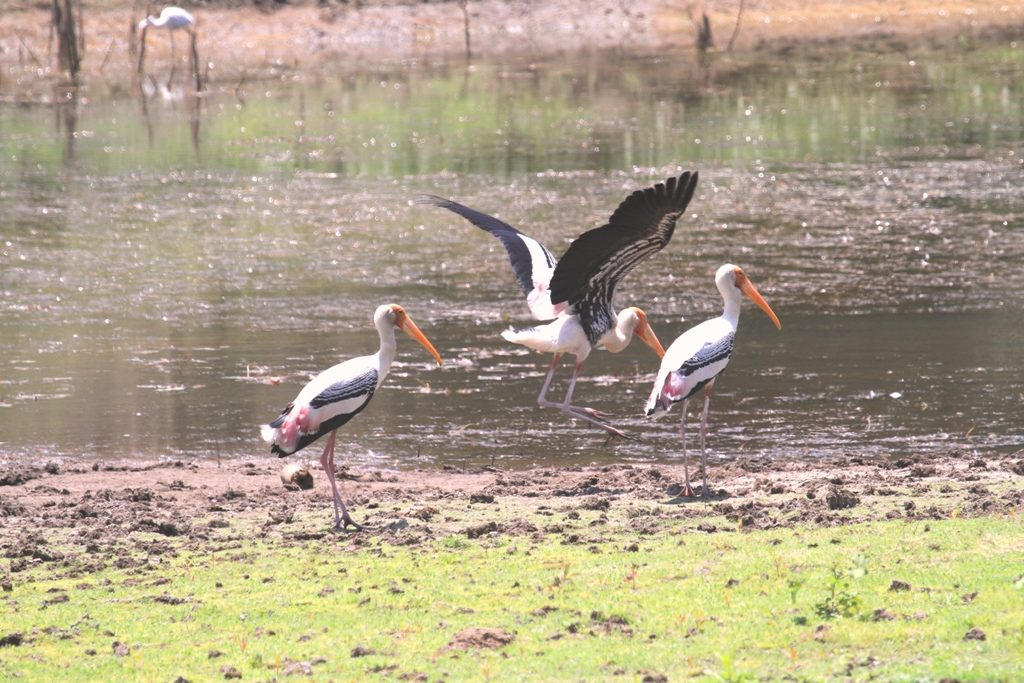 | | |
| --- | --- |
| Kingdom | Animalia |
| Phylum | Chordata |
| Class | Aves |
| Order | Ciconiformes |
| Family | Ciconiidae |
| Genus | Mycteria |
| species | Mycteria leucocephala |
Distribution/Range
The Painted Stork has a wide range in the Indian Sub Continent. Painted storks are predominately non-migratory and most make only local movements. However some birds have been known to migrate to west Burma.
Despite this fact, year on year we have witnessed less number of painted storks visiting coffee Plantations. A decade back, this bird was considered a widespread bird, but now the numbers have significantly declined.
Breeding/Nesting
Painted storks are a monogamous species. The mating season coincides with the latter part of the rainy season, starting from August in the North of its range and November to March in the South of its range. The male chooses a nest site and defends its territory.
The females preferably select a larger male. Once the male and the female are paired they both help in building the nest. The female painted stork lays between two and five eggs which are incubated for about a month, with both the male and female taking terns at incubation.
Each parent will take turns feeding nestlings until they fledge. Both male and female painted storks share responsibilities when incubating and raising young. The young are born altricial, without feathers and with eyes closed. Young ones fly when they are 60 days old and reach maturity at 4 years of age.
The painted stork is a colonial nester. It is very common to see hundreds of nests on a single tree. These birds are often found nesting along with herons, Ibises and storks.  Research data shows that painted storks often return to breed in the same tree year after year.
Food Habits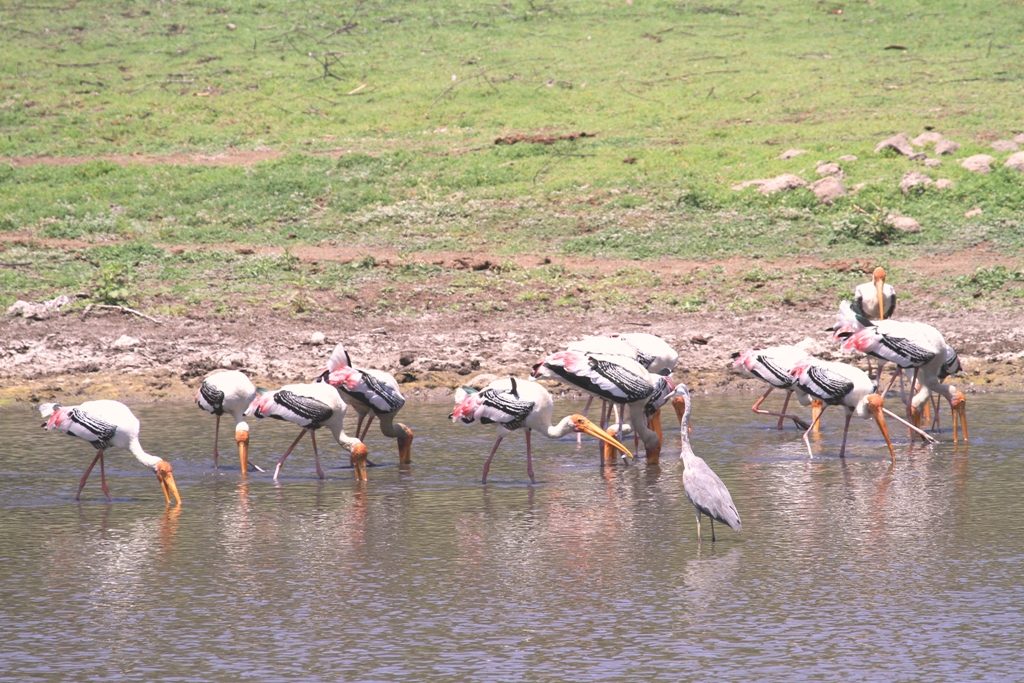 Painted storks have been known to feed on fish, insects, earthworms, crustaceans, amphibians and reptiles.
Predation
Painted storks are predated by human beings.
Threats
Intensification of agriculture and conversion of wetlands into areca nut and oil palm is severely impacting the food resources, especially during refueling stops. The indiscriminate use of herbicides and weedicides, and pesticides is also a direct threat.
Calls/Vocalizations
We have not recorded any calls. Storks have no syrinx and are mute. They give no bird call. Bill clattering is an important mode of communication between and among storks.
Habitat
 It is pretty common to see painted storks inside shade grown ecofriendly coffee plantations where there is very less of human disturbance. Generally, these beautiful Birds prefer to habitat isolated ponds and lakes but are also quite comfortable in foraging in wetlands during the daytime, despite the presence of human activity.
Painted stork status
Painted storks have been classified as near threatened by the IUCN Red list of Threatened species and their population continues to decline throughout the coffee growing belts. Although one of the most abundant of the Asian storks, this species is classified as Near Threatened by the IUCN Red list of Threatened species and their population continues to be undergoing a moderately rapid population decline owing primarily to hunting, wetland drainage , pollution, deforestation and land fragmentation.
 Conclusion
Today, with birds threatened as never before, we need to redouble our efforts to protect bird habitats. It is evident from the declining numbers of bird species that birds cannot adjust to man. Instead, man should adjust to them. As we have earlier mentioned, painted stork's numbers are declining inside shade coffee.
In our personal opinion the single most important factor contributing to this decline is the conversion of wetlands into oil palm and areca nut plantations. This has a direct impact on the availability of food for these birds that generally prefer aquatic and semi aquatic habitats.
Both Resident and Migratory bird populations inside shade coffee are in sharp decline year after year due to habitat loss. We need to redouble our efforts to conserve wetlands and marsh lands so that we directly encourage these beautiful winged visitors to be a part of our coffee landscape.
References
Anand T Pereira and Geeta N Pereira. 2009. Shade Grown Ecofriendly Indian Coffee. Volume-1.
Bopanna, P.T. 2011.The Romance of Indian Coffee. Prism Books ltd.
Jonathan Elphick (ed.)1995. "Collin Atlas of Bird Migration: Tracing the Great Journeys of the World's Birds", Harper Collins.
David Attenborough.1998. "The Life of Birds", Princeton University Press.   
http://www.arkive.org/painted-stork/mycteria-leucocephala/
http://www.birdlife.org/datazone/speciesfactsheet.php?id=3827   
http://www.birdlife.org/datazone/speciesfactsheet.php?id=3827 
http://animaldiversity.org/accounts/Mycteria_leucocephala/
http://www.rspb.org.uk/discoverandenjoynature/discoverandlearn/funfactsandarticles/migration/which-birds-migrate.aspx                                                                   
http://www.birdwatchireland.ie/Default.aspx?tabid=415  
http://www.wbu.com/education/birdmigration.html 
http://www.newworldencyclopedia.org/entry/Bird_migration