Over the years we have noticed thousands of dragonflies hovering in the air inside ecofriendly shade coffee. These prominent and brightly colored insects are commonly observed near ponds, lakes, streams, open areas and inside coffee zones.
Many species inhabiting the coffee agro ecosystem play a crucial role in controlling pest populations. Most Coffee Planters are unaware that these delicate and dainty dragonflies are extremely precious to the Coffee Ecosystem in letting the Planter's understand the health of the coffee ecosystem as well as the physical sense of our damage or care.
The key idea of writing this article is to inform the Coffee Planting Community that water quality in ponds and lakes needs to be free of pollution because, this life giving water, apart from human and livestock needs, is also used to induce flowering in coffee and other multiple crops by way of irrigation or sprinkling.
It is a difficult task to measure the quality of a vast reservoir of water inside shade coffee by chemical means. Dragonflies are best suited for evaluating water quality as well as environmental changes if any.
In India, the dragonfly species are largely concentrated in two biodiversity hotspots of India, namely the Western Ghats and the North East. They are ancient groups of insects and fossil evidence shows that they have been flying around for over 300 million years.
World over there are approximately about 6000 species of Odonates (Dragonflies & damselflies). In India about 503 species and sup species are reported. The diversity and endemism of dragonflies inside shade grown ecofriendly Indian Coffee has not been studied.
The complex role played by dragonflies with respect to coffee plantation ecology is poorly understood. This article probes the role of dragonflies in  Coffee Plantation ecology and provides an opportunity for entomologists to further conduct research on dragonflies and understand their key importance in monitoring the health of the coffee ecosystem.
Review of literature states that Dragonflies could very well be used as Bio-control agents of harmful insects as well as Bioindicators to monitor the health of any given environment or ecosystem.
All species of dragonflies are dependent on fresh water habitats for their reproduction. Each species has a defining role to play in the coffee ecosystem. Depending on the altitude and topography, specific species colonize the coffee ecosystem and because they are habitat specific, they are successfully used as indicators of environmental health and conservation management.
The life cycle of the dragonfly is spent underwater. Hence clean water is an essential requirement for dragonflies. Water quality is of prime importance for completing their life cycle.
Clean or unpolluted water is a pre requisite for breeding. Hence, these insects act as excellent environmental indicators. More the number of dragonflies indicates a healthier ecosystem with good quality water.
Environmental indicators are simple measures that speak about the health of the ecosystem.
Scientific literature states that a biological monitor or biomonitor can be defined as an organism that provides quantitative information on the quality of the environment around it.
In other words, bio-monitors will indicate the presence of the pollutant and also attempt to provide additional information regarding the extent of damage to the ecosystem.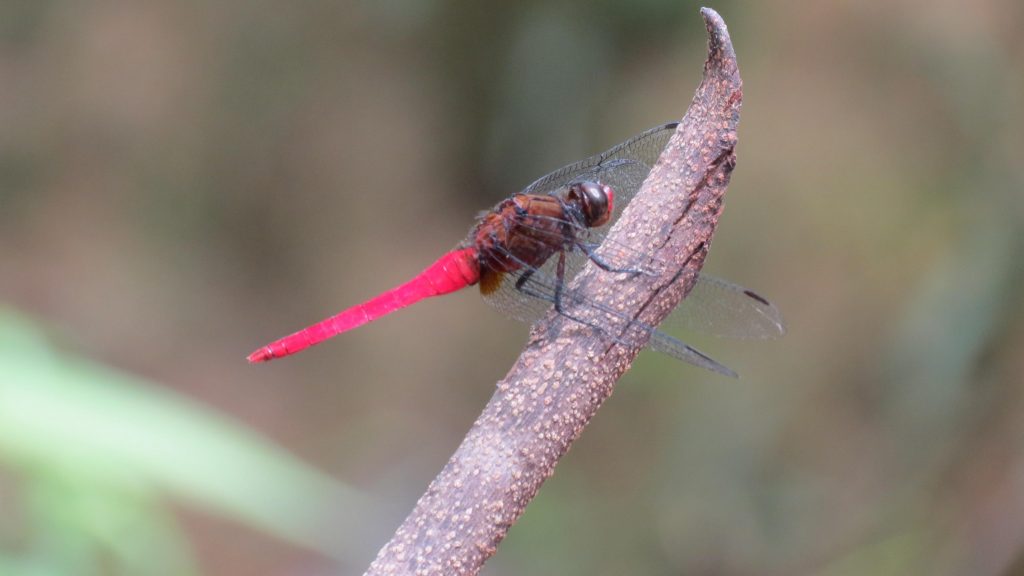 Advantages of Bio indicators
The advantages of Bio-indicators is that the living indicator species can reveal the qualitative status of the environment. In simple terms , constant monitoring of various bio-indicator species in terms of biochemical, physiological or behavioral changes will reveal the cumulative effects undergoing in a given ecosystem in terms of pollution or degradation of the environment.
It will also reveal as to the nature of the problem and its persistence in the environment. These changes in the ecosystems cannot be measured by physical or chemical testing.
Vision
 The dragonfly is gifted with two compound eyes and has an extraordinarily good vision. It can move its head 360 degree. Each compound eye contains as many as 30,000 lenses, or ommatidia. It is also believed that they can perceive more colors than human beings.
Flight
 Even though the wings of the dragonflies appear delicate, they are in fact very strong. They can move each of their four wings independently .They can maneuver each wing during flights and this flexibility enables them to escape from predators.
In addition to flapping each wing up and down, they can rotate their wings forward and back on an axis.They can also move up or down at high or low speeds or fly backwards, stop in mid air or take sudden sharp turns.
Thermoregulation
 At times one can see dragonflies sitting on a twig and sort of vibrate their wings in slow motion. This action is primarily done to warm their bodies. Like all insects, dragonflies are ectotherms.
There are many organisms that are not able to maintain their own body temperature, and these are called ectotherms. Ectotherms depend on the external environment to either warm or cool themselves because their body does not do this for them.
The cellular processes of ectotherms also function best at certain temperatures, so ectotherms find various ways to make sure they do not get too hot or too cold. Dragonflies also position their bodies spreading their wings in different angles to either absorb the sun's rays to warm themselves or to reflect the suns heat.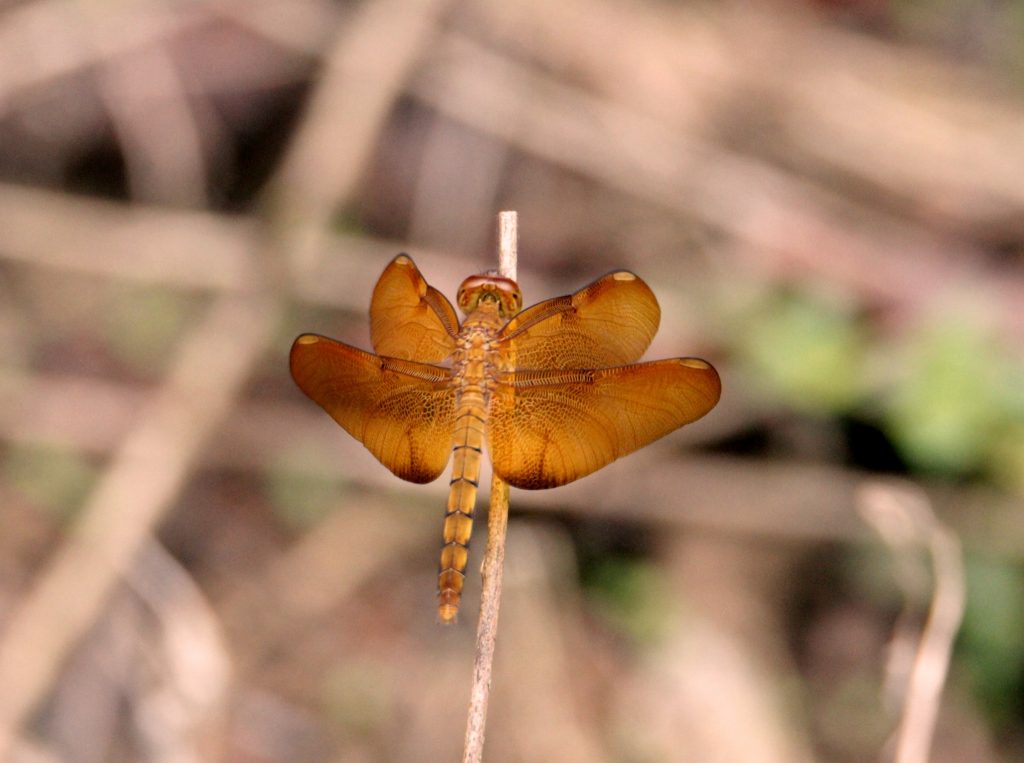 Migration
Migration is not a common behavior among dragonflies. However, it is a known fact that many species of dragonflies migrate from one place to the other, sometimes the migration may cover thousands of miles.
However, migration inside coffee forests is poorly understood. The reason behind migration is also not fully understood.
Competition
 Dragonflies are highly territorial. They will defend their territory against intrusion from other males. The size of the territories differs depending on the habitat and species. Territory is also affected by habitat quality.Territories are larger in poor habitats and smaller in good habitats.
Dragonflies Diet
Adult dragonflies are aerial predators and catch insects like mosquitoes, grasshoppers, midges, butterflies, moths, bees and other small insects. They are active during the day and hunt during the twilight hours.
Mating
 Mating is an elaborate process with the male and female joining together by the male grasping the female behind the head with the tip of his abdomen.
Such pairs can be often seen sitting on shrubs for a few minutes or can also be seen flying around. After mating eggs are laid in water or on the under-surface of aquatic leaves.
The nymph takes 2 to 5 years to develop. The nymph is a predator and can eat small shrimp, fish and other aquatic insects. They also eat a range of various insect pests at different metamorphic phases. Vegetation both in and around streams and coffee blocks is important for the adult nymphs to hide and catch prey.
Threats
 The coffee landscape has undergone a sea change during the past one decade. Fragmentation of land, habitat destruction, and draining of wetlands has severely impacted the population and distribution of dragonflies.
Habitat loss, degradation or modification of marsh lands, semi aquatic or aquatic habitats as well as timber logging represent the major threats to dragonflies.
In addition to predators like the bee eater birds or magpies, dragonflies are often plagued by parasites.
Future Research
As many coffee forest dwelling dragonflies are local in occurrence, a good picture of their distribution and true habitat requirements only emerges with intensive sampling at many locations in an area.
All coffee growing regions need to be mapped for the diversity of dragonflies and the potential species could be further investigated to bring about a set of protocols to evaluate and monitor the coffee environment.
Conclusion
 According to the EU Red Data List, with about 5,680 species, the dragonflies constitute a relatively small insects order and most species are found in the tropics.
Their sensitivity to habitat quality and their amphibious life cycle make dragonflies well suited for evaluating environmental changes.
In India dragonflies are well distributed in the western Ghats and Coffee forests which are part of the Western Ghat hot spot.
Coffee Planters as well as Coffee Research Scientists need to study all species of dragonflies depending on each Agroclimatic Region and build data bases for further evaluation.
In the coming years, Coffee Planters may find an easy biological solution in understanding micro as well as micro changes within the confines of the coffee forest , using dragonflies as Environmental tools.
References
Anand T Pereira and Geeta N Pereira. 2009. Shade Grown Ecofriendly Indian Coffee. Volume – 0ne.
Joshi, S., K. A. Subramanian and P. Roy (eds.) 2015. Odonata of India, v. 1.00. Indian Foundation for Butterflies.
Temperature control – Wing-whirring to color-change
Ectotherms: Definition & Examples
Dragonflies, as climate change indicators
Practical Conservation Management
10 Fascinating Facts About Dragonflies
Nagpur researcher adds 35 dragonfly species to state checklist