The Asian Koel is one among the few bird species that can easily be spotted and identified by all coffee Planters. It is the first bird to break the silence at dawn and its melodious call can be heard vibrating through the green corridors of the Coffee Forest.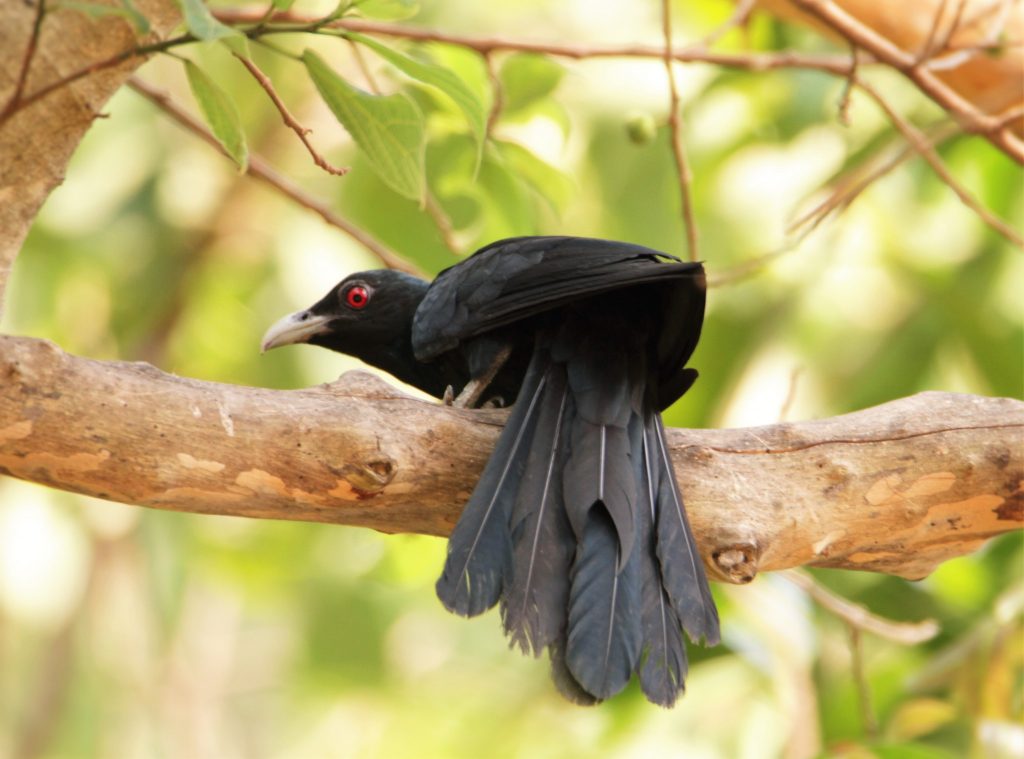 Description
The Asian Koel is a very friendly bird and can be easily spotted inside ecofriendly coffee Plantations. Adult males have black wings. Wings are relatively short and the tail long. The beak is short, slightly down curved and pale in color. The characteristic feature of these birds is their bright red eyes.
The female is brownish on the crown and has rufous streaks on the head. The back, rump and wing coverts are dark brown with white and buff spots. The underparts appear striped.
Scientific classification
| | |
| --- | --- |
| Kingdom | Animalia |
| Phylum | Chordata |
| Class | Aves |
| Order | Cuculiformes |
| Family | Cuculidae |
| Genus | Eudynamis |
| Species | scolopacea |
| Binominial Name | Eudynamis scolopacea |
Distribution and habitat
The Asian Koel loves to sit on fig trees and other fruit trees. Generally, they are not found in heavily wooded areas, but remain close to human habitation associated with an orchard.
They prefer secondary growth and not very tall trees. Found in wide range of coffee habitats from jungle to cultivation and urban gardens. Especially common in places like bamboo thickets. Lives mainly in thickets of trees, shrubby areas with tall trees, gardens and woods.
Size
The Asian koel is a large, long-tailed, cuckoo measuring 39–46 cm (15–18 in) and weighing 190–327 g (6.7–11.5 oz).
Breeding Behavior
The Asian koel is a brood parasite, and lays its single egg in the nests of a variety of birds. Koe'ls are known to lay their eggs in the nests of crows and other birds. They do not build their own nests or incubate their own eggs. They are careful in selecting the nests.
The females do not simply lay eggs in empty nest. They carefully choose the host. When the time is ready, the female would lay her eggs within a day or two after the host has laid her first eggs. Somehow by design they know that their eggs would be hatched 3 days ahead of the host's chicks.
Songs / Vocalizations
They are very vocal during the breeding season (March to August in South Asia), with a range of different calls. The male and female has a very distinctive call and can be heard at all hours of the day.
Territorial Behavior
Male Koel's are highly territorial and will drive away other males from their territory, especially when food is scarce. We have noticed that when food is in abundant supply, males will tolerate the company of other males.
Diet
These birds are very frugivorous when their diet consists entirely on fruits. It also consumes insects and caterpillars too. It is important to note that these birds do not eat ripe or green coffee berries, or any of the mixed crops like areca, pepper, oil palm, thus saving the Coffee Planters from economic hardships.
Flight
The flight of both the female and male is straight with rapid wing beats.
Economic Importance
They have been noted to be especially important in the dispersal of the sandalwood tree (Santalum album) in India.
Large seeded fruits are sometimes quickly regurgitated near the parent tree while small seeded fruits are ingested and are likely to be deposited at greater distances from the parent tree.
Conservation Status
Not globally threatened. Common throughout much of its range.
Conclusion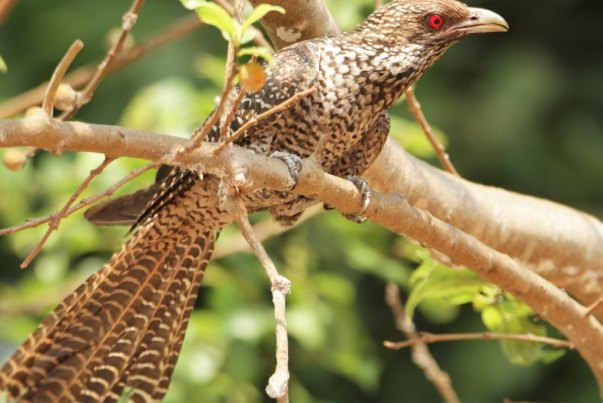 The Asian Koel is mainly a resident bird. We need to be careful because the bird has a few enemies and has a great potential in colonizing new areas in quick time upsetting the balance of nature.
An in-depth study needs to be conducted to estimate their population in all coffee growing regions of the Country.
References
Anand T Pereira and Geeta N Pereira. 2009. Shade Grown Ecofriendly Indian Coffee. Volume-1.
Bopanna, P.T. 2011.The Romance of Indian Coffee. Prism Books ltd.
Asian Koel Eudynamys scolopacea malayana