Shade grown coffee plantations are ideal bird sanctuaries, where birds of different species occupy every available niche inside the coffee forests. Because of the multi-tiered shade system comprising of timber value trees, Plantation crops, fruit trees and flowering trees, one can spot bird species of various hues and colors throughout the seasons. In a nutshell, Eco-friendly coffee forests provide the ideal habitat for both resident and migratory species of birds, due to the abundant supply of food.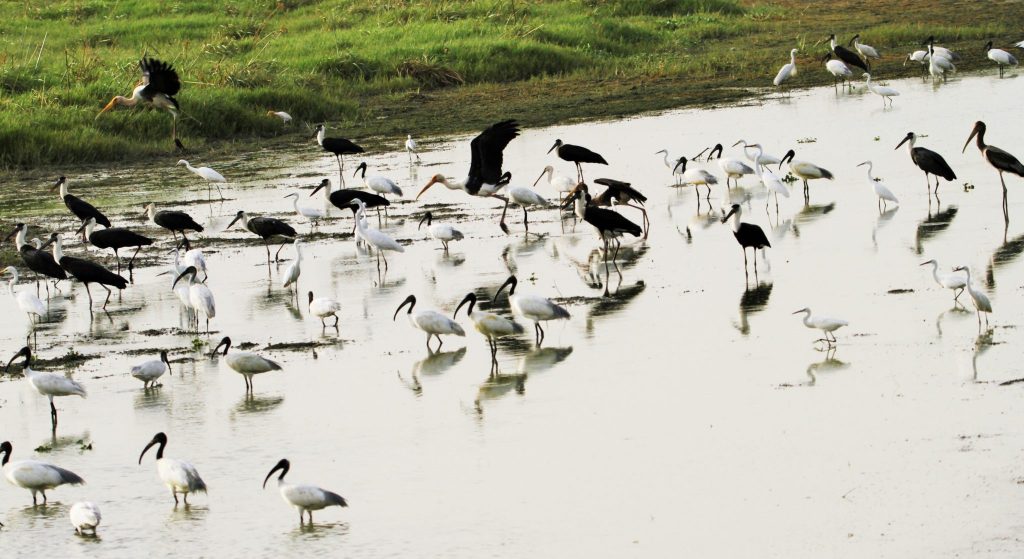 This paper throws light on one very important aspect of avian beak evolution and adaptation.
Characteristics of the Beak
The beak sometimes referred to as the bill – has two parts:  the upper mandible and the lower mandible. The upper mandible is fixed to the skull and does not move independently. Whereas the lower mandible can move independently, either upwards or down wards. Keratin produced by a bird's beak gives it the strength and durability.
Feeding Habits
Birds inside coffee forests are well known for their remarkable diversity in beak form and function. Field studies have shown that beaks evolve by natural selection in response to variation in local ecological conditions. Evolution has also programmed the avian brain to respond to sudden and crucial changes in the weather patterns. By way of shaping different sizes of beaks which are useful in capturing various insects, animals and fish. Various bird species have evolved specialized techniques and beaks to cater to their enormous feeding demands. Many species share the same feeding grounds without getting in each other's ways. At times the source of food may be a particular tree where in some species favour the top of the tree, others closer to the bottom and some others search for food inside the barks. Some birds simply stamp the ground with their feet to scare up food.
The main threat to birds inside the coffee forests is not due to poaching or hunting, but due to the large scale destruction of coffee forests. The recent past has resulted in too much degradation of natural resources.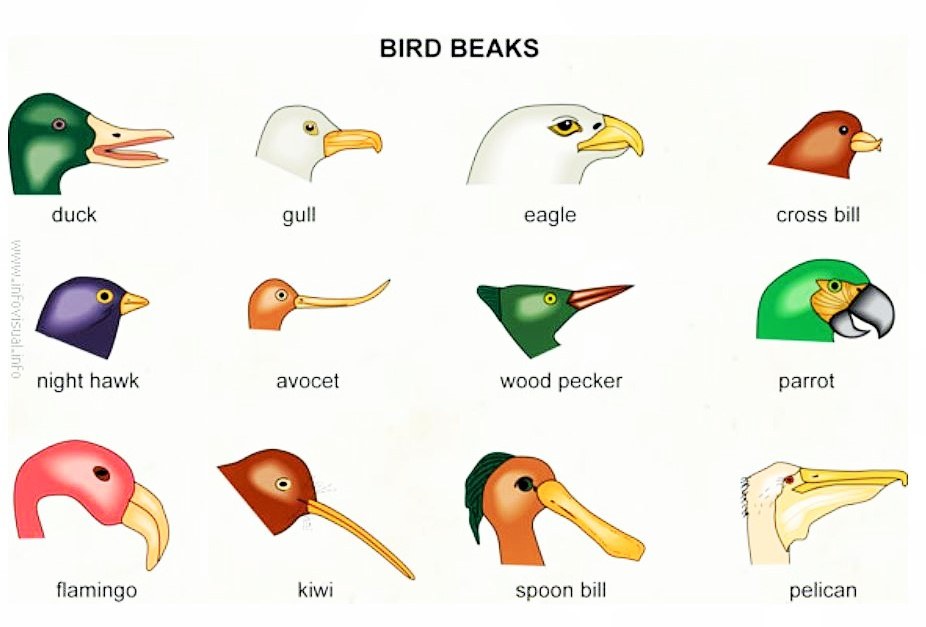 Beak Adaptations
Tearing
Raptors (Birds of prey –Falcons, Eagles, Owls) are gifted with short,sharp and strong beaks with hooked upper jaw for tearing flesh. In addition to the specialized shape of their beaks, raptors also have a unique tooth tucked inside their upper mandible, called tomila. The tomila aids in cutting the spinal cord of the prey.
Eagles
Cracking
A few birds have short, stout, cone shaped beaks which help them crack open seeds and nuts. Cracking beaks vary and are usually thicker and stronger when compared to other beaks. The size of the cracking beaks also varies in size depending on the type of seed that needs to be cracked.
Sparrows/Horn-Bills/scaly breast munia
Sipping
The humming bird uses its bill like a straw sticking it into flowers to sip on nectar. These birds have long needle like beaks that aid in sucking nectar from flowers which have a narrow and tubular opening. It is important to understand that the beak is only a protective covering and inside the beak is a long tube like tongue which sucks the nectar out of the flower. The tip of the tongue is forked and has little hairs all over it. The part of their tongue that is not forked has two grooves in it that look like two tiny troughs stuck together.
Humming Birds
Drilling
A classic example of a bird equipped for drilling is the wood pecker.
Almost all species of woodpecker's have a chisel like tip for drilling holes in the dried up trees.
The woodpecker's long tongue has a barbed tip and is covered in sticky saliva. The woodpecker has another adaptation that aids feeding: a lengthened hyoid apparatus. The hyoid apparatus is a series of bones, muscle, and cartilage connected to the tongue that allows the tongue to extend to great lengths.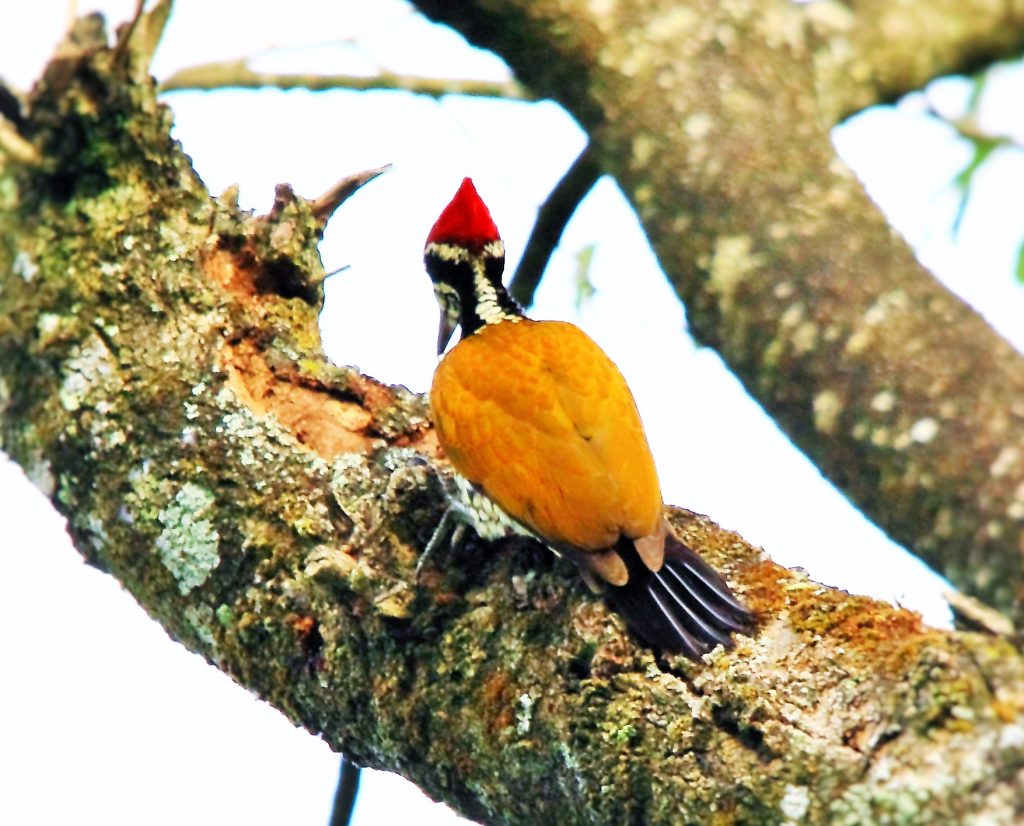 Woodpecker
Picking
Picking food involves beak adaptations that can pick food from the air, off the ground or from under stones, or bark of trees.
Some birds have bristles around their mouths which help in catching insects. Some birds have tweazer like beaks, slender and long to pick insects from hidden cavities. Others have short pointed beaks which help in picking insects and seeds from the ground.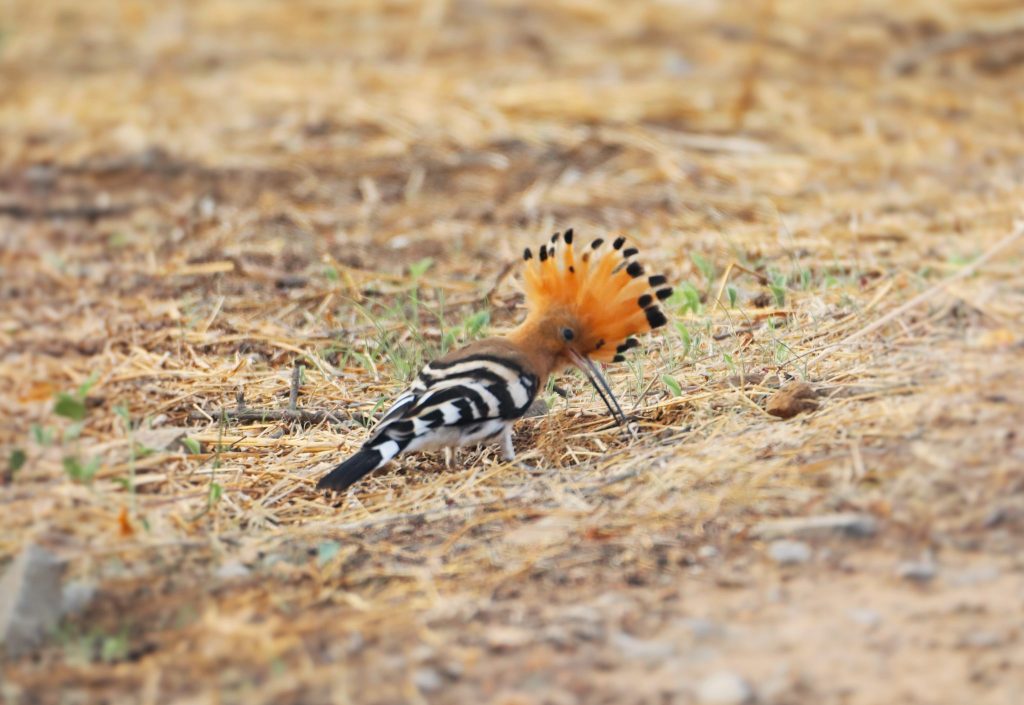 Swallows, Swifts, quails, Pheasants/Hoopoe
Skimmer/River tern Large bill with lower jaw longer than the upper, which help the birds scoop fish from water.
Probing
Generally mid sized and small birds like the herons, snipes, curlew, godwits and egrets have long pointed beaks , but each having a specialized beak to pick food from the same tropic level. The snipe has a slender beak whereas the egrets and herons have a pointed beak which acts as a dagger. Curlew/Ibis have long, slender, down curved beak for probing the shoreline for worms and other invertebrates that lie buried in the sediments.
Slimmer beaks are used to probe in mud and shallow water for worms, crustaceans and insects.
Herons, snipes, curlew, godwits and egrets
Striking
Birds with broad, pointed beaks hunt larger prey more efficiently. The beak literally acts like a spear. Herons have long thick spear like beaks. The herons uses its bill like a spear, stabbing fish, frogs and shellfish, then lifting them out of the water before swallowing them.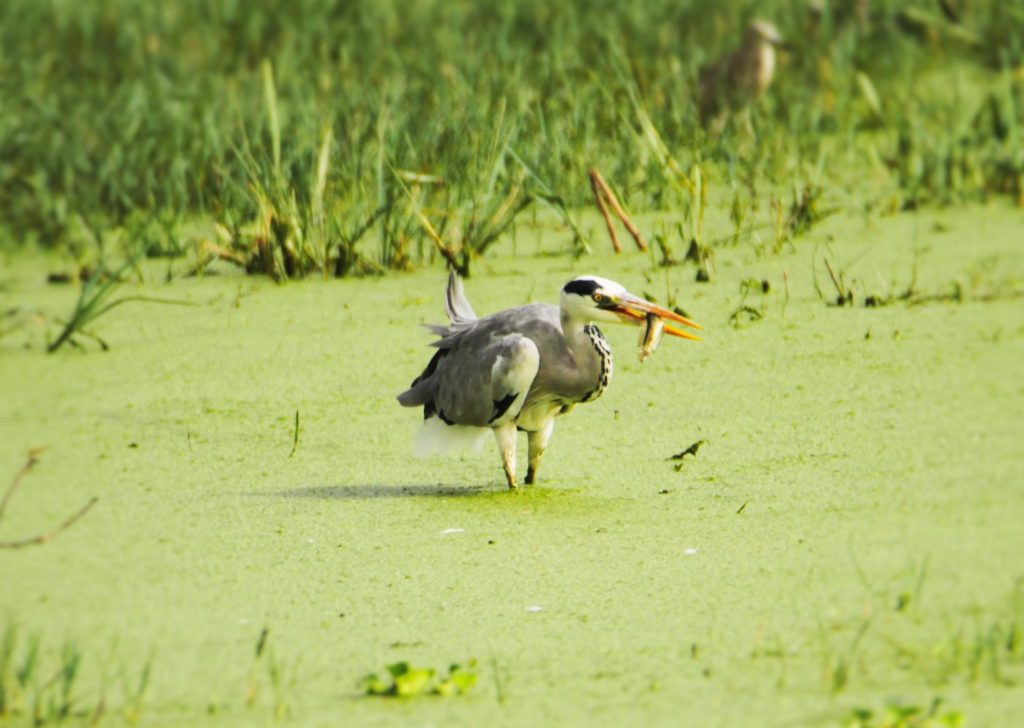 Grey heron
Straining
Flat, sieve like bill for catching fish and draining water. Most ducks have broad flat beaks which help them pick food from water. Ducks have tiny comb like structures around the edge of its beak called lamellae which help them strain off animals, insects and plant material out of mud shallows.
Asian open billed stork has short beak for separating mud and silt from shellfish and algae which it eats.
Spot Bill duck, Whistling teals.
Scooping
A typical example of a bird which scoops large fish is the Pelican.
It has a large bill with a stretchable pouch under it for holding the fish caught under water. The pouch on the pelican's lower bill is usually folded up, but it can get bigger when the bird is fishing. A pelican's pouch can hold three gallons of water.
Spoon Like
Spoonbill Long flat bill with a tip like a spoon. The spoonbill uses its bill like a shovel sweeping back and forth through shallow waters to shovel small fishes and crustaceans from the mud and water.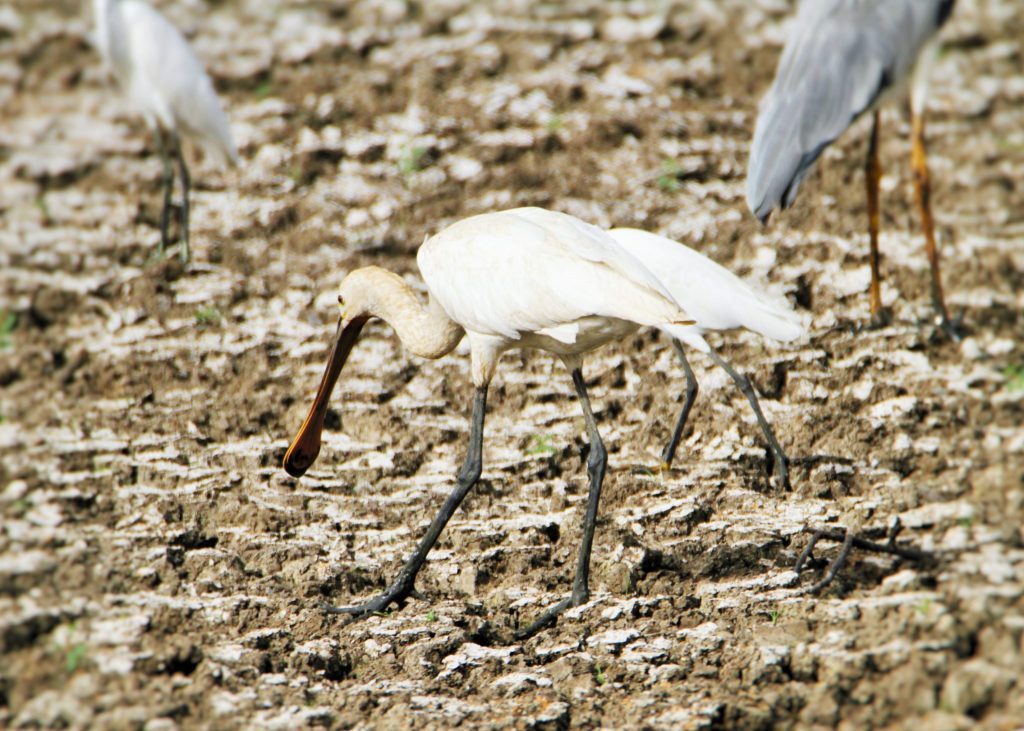 Conclusion
Beak or bill shape and sizes vary among bird species according to the food they eat and their feeding habits.The kind of food available determines their feeding behavior.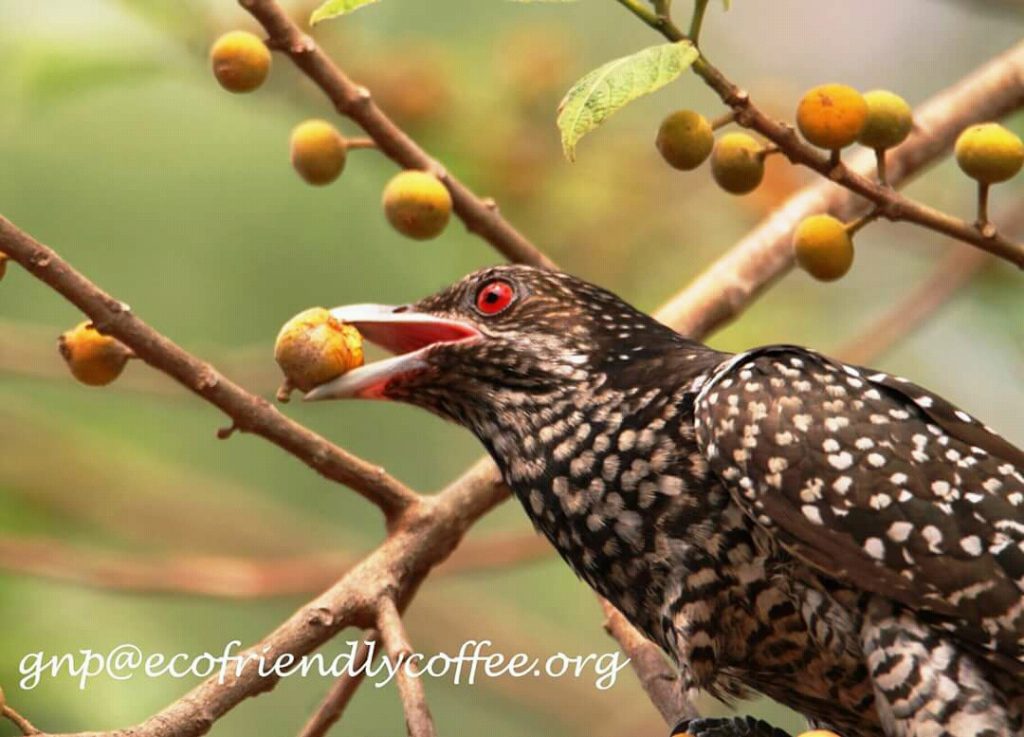 Again some kind of food may require different feeding techniques in different situations. For example, birds feeding on insects use different feeding methods depending on whether the insects are found on the tree bark, or surface vegetation, in rotting wood, in the soil, under water or flying.
References
Anand T Pereira and Geeta N Pereira. 2009. Shade Grown Ecofriendly Indian Coffee. Volume-1.
Bopanna, P.T. 2011.The Romance of Indian Coffee. Prism Books ltd.
For the Birds: Best-Adapted Beaks