The world has recognized the importance of the Western Ghats for the rich variety of life forms they hold. The mountain ranges and the densely wooded forests accommodate the famous school of life comprising of rare, exotic, native, endangered and endemic bird species.
The Western Ghats is also recognized internationally as the "western Ghat Endemic Bird area" and is known to support some rare and globally threatened bird species. It is one of the best birding hot spots in India for variety, beauty, and eco friendliness. In fact, these evergreen forests account for over a third of the bird species endemic to India. The Indian region is home to over 2000 of the world's 8650 species. In short, the Indian bird check list is twice the size of those of Europe and North America.

White Necked Stork
There is nothing more colorful, lively and beautiful as birds. They are not just beautiful to behold, they also add immeasurable value to human lives. Their melodious calls and whistling tones are a wake up call to commence the day on a bright note. All birds have recreational value as bird watching. They add color and variety to any landscape, may it be a pond or a lake. Birds touch us in unexpected ways. In return we can repay them for giving us such enjoyment by providing them with natural habitats. They put forth no demands on mankind, yet as days go by they are threatened. We need to take serious note of their dwindling numbers.
Today, an ever increasing number of people flock to cities in increasing numbers every year. In the coming years our population will become increasingly urbanized. And yet, we recognize that life in a metro or a town can be stressful; but we also know that green spaces, natural areas, artificial ponds, man made lakes and water bodies with aquatic birds and wildlife can relieve the stress and improve our quality of life. It is for this very reason that we need to protect our green spaces and natural forests.
The Western Ghat forests; stretching forth thousands of miles are perfect bird sanctuaries because they provide a safe haven for all forms of life. These include scrub forests and the sholas in the low lying rain shadow regions, deciduous and tropical rain forests up to about 1250 meters and montane forests and grass lands reaching a height above 2000 meters.
The entire region is interspersed with shallow lagoons, rivulets, ponds, lakes, rivers, and estuaries which provide the energy rich protein food in the form of fish, crustaceans and mollusks for migratory and resident birds. The associated wet lands, marsh lands and reeds provide excellent breeding grounds for most of the aquatic birds. It is important to note that the coffee mountains, placed inside the Western Ghats give birth to many perennial rivers, sustaining vast flooded plain systems. These rivers never run dry and are responsible in maintaining a constant energy flow to wet land, marshy and other aquatic habitats.
India is perhaps the only country in the world growing all its coffee under the canopy of a three tiered shade system. Shade grown coffee is not only environment friendly; it also has a host of other benefits. The tall evergreen trees together with nitrogen fixers and phosphate solubilising microorganisms enrich the soil and help build up a pool of organic nutrients beneficial for the growth and development of coffee. Most importantly, it reduces the need for external chemical inputs which creates imbalances in the forest ecosystem.
The focus of this article is to highlight the many AQUATIC bird species, that seek refuge inside the coffee forests and the symbiotic role they play in enhancing the sustainability of shade grown ecofriendly Indian coffee. The birds help control destructive and endemic pests that would otherwise require the application of poisonous chemicals and the forests in turn provide the ideal home for the birds. At times bird droppings act as natural fertilizer for coffee. Each year coffee forests accommodate hundreds of species of migratory birds and provide the much needed migratory corridor for migratory birds to escape the freezing winters of Europe.
BIRD PROTECTION and TRADITIONAL WISDOM
Indian culture has from time immemorial respected all forms of life and has provided safe havens for both resident and migratory birds. The people of the region have lived for thousands of years in close harmony with nature. A few legends state that the Brahminy duck, was the symbol of fidelity; the pairs mating for life. The Emperor Jehangir noted with amazement the devotion of a sarus crane to its dead mate. The bird refused to leave the bones of its spouse.
THREATS TO BIRDS
By far the major threat affecting bird populations is the unrestricted habitat loss and degradation of aquatic surrounding due to human activities. It is an open secret that more than half of the wet lands, estuaries, mangroves and marsh lands across the length and breadth of the Western Ghats has been destroyed. Lets face it; Wet lands are falling prey to land grabbers. Wet lands in and around cities and towns are drained and raised with soil to accommodate concrete jungles.
CONSERVATION
The survival of water birds cannot be viewed in isolation. Bird conservation practices like prevention or reduction in habitat loss, habitat deterioration and habitat fragmentation need to be high on our agenda, for the simple reason that birds play a vital role in stabilizing food chains and food webs essential for the survival of man. We need to focus on the small details like shielding bird nests, protecting migratory neighborhoods, and providing an ecofriendly environment in order to better appreciate the larger spectrum of life. This will enable us to be conscience to the many dimensions of our existence and treat aquatic birds with respect. A sustainable system empowers global citizens to build better lives. It is our obligation to understand that in nature's shadow we all co exist.
CONCLUSION
More than half of the world's 10,000 bird species depend on forests, marshlands, grasslands, wetlands and mangroves for their survival. These places provide the much needed breeding grounds for avian fauna. But loss of wetlands and introduction of new age chemicals in agriculture is threatening the very life support system because of large scale habitat destruction.
The preservation of wet lands is crucial for the survival of both resident and migratory birds because they provide the birds with specialized microhabitats and different kinds of food sources. In a way, wet lands provide the strategically important staging areas required for migratory birds to stop and refuel, before continuing their onward journey. Each of these microhabitats support a particular variety of food sources, often required for the build up of fat deposits during the long migration periods.
Since birds criss- cross oceans and continents, they belong to all of humanity. It is in our power to protect and nurture some of these extraordinary life forms. We need to walk through this world and leave an ecofriendly foot print which protects the interest of both, man and bird.
INDIAN PURPLE MOORHEN: Porphyrio porphyrio
This bird has very beautiful purplish blue plumage with long red legs, oversized toes and a distinctive thickish red beak. The bald red forehead or frontal shield with a white patch under the stumpy tail, conspicuous when flicked up at each step are leading clues to its identity. The bird rarely swims. Its food consists of seeds, tubers, rice, mollusks, frogs and vegetable matter. The nest is a large pad of interwoven rushes or paddy leaves placed on matted water plants within flooded reed beds. The normal clutch consists of 3 to 7 eggs, creamy to reddish buff in color, blotched and spotted with reddish brown.
GREY HERON: Ardea cinerea
Herons have ash grey wings with a white head and a long white neck which bends into an "S". The bird has a long black dotted line down the front of the neck, and two long black feathers on the head. The grey heron is about the size of a vulture. Even though it is a water bird, it cannot swim. They are excellent fish catchers and also eat frogs. Grey heron's build their nests in groups on tree tops with a platform of sticks, leaving a shallow depression in the middle. A group of nests is called a heronry. The mother Heron lays three to six eggs which are a deep sea green. The nesting season is between November and March.
PURPLE HERON: Ardea purpurea
The bird is somewhat smaller than the grey heron. The feathers are bluish or purplish grey above, with rufous head and neck; chestnut and black below. It is commonly observed in marshy habitats and builds its nest just like that of the grey heron. The food habits are also similar to the grey heron.
INDIAN POND HERON: Ardeola grayii
A small heron, thickly set and earthly brown in color, with dull green legs, bill bluish at base, yellowish at centre with black tip., neck and legs shorter than in true egrets. The bird hunts alone but roosts in groups with other pond herons. The food consists of fish, frogs, crustaceans, and insects.
BLACK IBIS: Pseudibis papillosa
The black Ibis has black wings with a white patch on the shoulder. They have red legs and a crown of red warts on the head. These birds prefer higher and drier grounds compared to the white ibis. The eggs are bright pale green, sometimes unmarked and sometimes with brown streaks. The nesting period is between May and October.
WHITE IBIS: Threskiornis melanocephala
The white ibis has a naked black head and neck, a white body and black legs. Their long bill curves downwards. The eggs are blue or greenish white, sometimes with pale yellow spots. The mother bird nests between June and August.
Both the white and black ibis lay two to four eggs. Their nests are shallow platforms made of twigs and perched on trees in or near water.
WHITE BREASTED KINGFISHER: Halcyon smyrnensis
The bird is pretty small with beautifully colored feathers and a white breast. The bill is pointed, strong and useful in catching fish, tadpoles and insects. The kingfisher digs a long tunnel into the bank of a stream to make its nest. The tunnel widens out at the end to form a chamber, and the mother bird goes into this and lays five to seven glossy white eggs. The nesting season is between March and June.
LITTLE BLACK CORMORANT :Phalacrocorax niger
This bird is very common in water bodies in and around coffee forests. It has a thick neck and a long head with a stiff tail and slender compressed bill. The presence of a small white patch on the throat is very conspicuous. At times it is found in pairs or close knit congregations. The main source of food is fish. They are excellent swimmers and divers and all their fishing is done underwater. They build shallow twig platform nests in trees, frequently in mixed colonies with egrets and storks. The female lays 4 or 5 eggs pale bluish green with a chalky surface.
CATTLE EGRET: Bubulcus ibis
The bird is white in color and very similar to the little egret, but can always be distinguished from it in the non breeding season by its stouter yellow bill. It is often found sitting on grazing cattle. The food consists of insects . They breed in colonies in the company of pond herons, cormorants and white egrets. The female lays a clutch of 3 to 5 eggs and the nest is made up of dry twigs.
LARGE EGRET : Ardea alba or Egretta alba
The Large Egret has pure white feathers with a pale whitish bill. It has long black legs and is also commonly refered to as the White Heron. The bird habits marshy areas. The Herons food is mainly insects, frogs and small reptiles. During the mating season , the male develops a long white drooping crest and fine long feathers on the back and breast.
The Heron's nest is a platform of twigs, lined with straw. They build their nests in trees among heronries and the nests of other water birds. The nesting season is from july to August in Northern India and from November to February in the South. The mother bird lays four pale bluish green eggs.
MEDIAN EGRET : Egretta intermedia
The bird is slightly smaller than the large egret and develops plumes both on back and breast during the breeding season. They are solitary hunters and their food consists of fish, frogs, crustaceans and insects.
LITTLE EGRET: Egretta garzetta
A slender, snow-white waterbird. White plumage, black legs, yellow feet and black bill. In the breeding season the bird develops ornamental lacy plumes on their back which were in great demand for millinery purposes in Europe and America during the early part of the century. The normal diet consists of small fish, frogs,tadpoles, aquatic insects and crustaceans.
WHITE NECKED STORK: Ciconia episcopus
A large black and white stork with red legs. Glossy black crown, breat and huge wings, the black parts having a distinct purplish green sheen; white neck, lower abdomen and undertail coverts.; long, stout bill black, occasionally tinged crimson. The food conists of lizards, frogs, crabs and insects.
BLACK NECKED STORK: Ephippiorhynchus asiaticus
This is India's largest stork. Massive black beak; glossy blue-green-black head, neck and tail. Rest of body white; in flight, white wings have broad black band along their length; red legs. Generally solitary, at times move about in pairs. Food consists of fish, frogs,lizards,small turtles and insects.
PAINTED STORK: Mycteria leucocephala
The big bird has a white neck and the wings are barred in greenish black. It also has a blackish-green breast band and black tail. The bill is large, slightly curved with orangish yellow colour. The bird builds its nest on top of trees made of twigs, lined with straw and grass. The mother bird lays three to five dull white eggs between August and January. The food conists of fish, frogs, crustaceans and insects.
ASIAN OPEN BILLED STORK: Anastomus oscitans
India's smallest stork, which stands under one metre to the crown. It is white or grayish white in color with black in the wings. The reddish black bill with arching mandibles leaving a narrow open gap in between, is an unfailing diagnostic feature. The food conists of frogs, fish, crabs, large insects and other molluscs. Open bills breed in colonies, often very large ones, in association with cormorants, herons, ibises and other marsh birds. The nests are rough circular platforms of twigs with the central depression lined with leaves and stems of water weeds. The eggs three to four are sullied white without any markings.
SPOT BILLED DUCK: Anas poecilorhyncha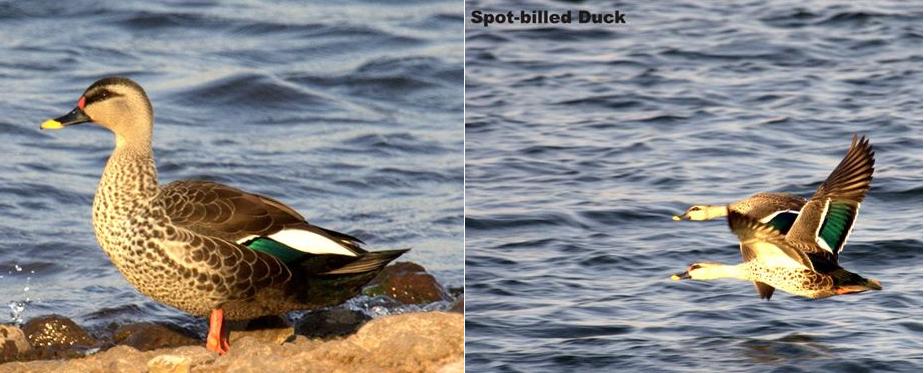 The duck has a blackish brown plumage, feathers edged paler; almost white head, neck; black cap, dark, broad eye-stripe; green speculum bordered above with white; black bill tipped yellow; coral red legs. These birds generally donot associate with other ducks. Food consists of wild grain, seeds, shoots of aquatic plants, water insects, worms, and snails.
WOOD SANDPIPER: Tringa glareola
Grey brown above , closely spotted white; slender build; white rump, tail; white below; brown on breast; no wing bar. Food consists of crustaceans, insects, and mollusks.The bird is quite gregarious in nature.
RED WATTED LAPWING: Vanellus indicus
The bird is a common winter visitor from as far north as Siberia.The bird has a jet black head, neck, breast; bronze-brown upperbody; white below, continuing to broad bands up the neck sides towards eyes; fleshy crimson facial wattles diagnostic. Solitary or pairs when breeding. Thediet consists of insects, seeds and tubers.
REFERENCES
ecofriendlycoffee.org/a-symphony-of-birds-inside-coffee-forests/
ecofriendlycoffee.org/coffee-forests-a-gateway-to-wildlife/
ecofriendlycoffee.org/coffee-hotspots-an-inventory-of-biodiversity/
www.arkive.org/species/GES/birds/
Bikram Grewal., Sunjoy Monga & Gillian Wright. 1973. Birds of India, Bangladesh, Nepal, Pakistan & Sri Lanka. Published by the guidebook Company Limited, Hong Kong in conjunction with Gulmohur Press Pvt. Limited. New Delhi.
Koichiro Sonobe (Editor in chief ), Shunji Usui (Editor ) 1993. A Field guide To The Waterbirds Of Asia. The Wild Bird Society Of Japan. Sanyo Printing Co;Ltd.
N.N. Majumdar. 1999. Some Indian Birds. Children's Book Trust, New Delhi.
Peterson T.R. 1990. Peterson Field Guides. Western Birds. Third Edition. Houghton Mifflin Company. Boston New York.
Salim Ali. 1949. Indian Hill Birds. Oxford University Press. India.
Salim Ali & Laeeq Futehally.1997. Common Birds. National Book Trust. India.
Salim Ali & D.S. Ripley. 1996. A pictorial guide to the birds of the Indian Subcontinent. Bombay Natural History Society. Centenary Publication. Oxford University Press. India.
Salim Ali. 1996. The Book of Indian Birds. Salim Ali centenary edition. Bombay Natural History Society. Oxford University Press. India.
ACKNOWLEDGEMENT: We wish to acknowledge and specially thank Mr. Ashley Rasquinha M.S. (U.S.A), (DIRECTOR-TECHNICAL, ELECTROPNEUMATICS & HYDRAULICS (I) PVT. LTD. Pune.) For photographing the aquatic birds in the wild. Ashley is a friend of nature and devotes his spare time for the conservation of wild life.