Introduction
Shade Grown Eco-friendly coffee forests adjourn a number of wildlife sanctuaries and in some States like Karnataka, coffee forests are an integral part of the Nilgiri biosphere reserve. Since most species of wildlife undergo seasonal migrations in search of food, one can witness wildlife from Game sanctuaries crossing over into coffee forests and vice versa.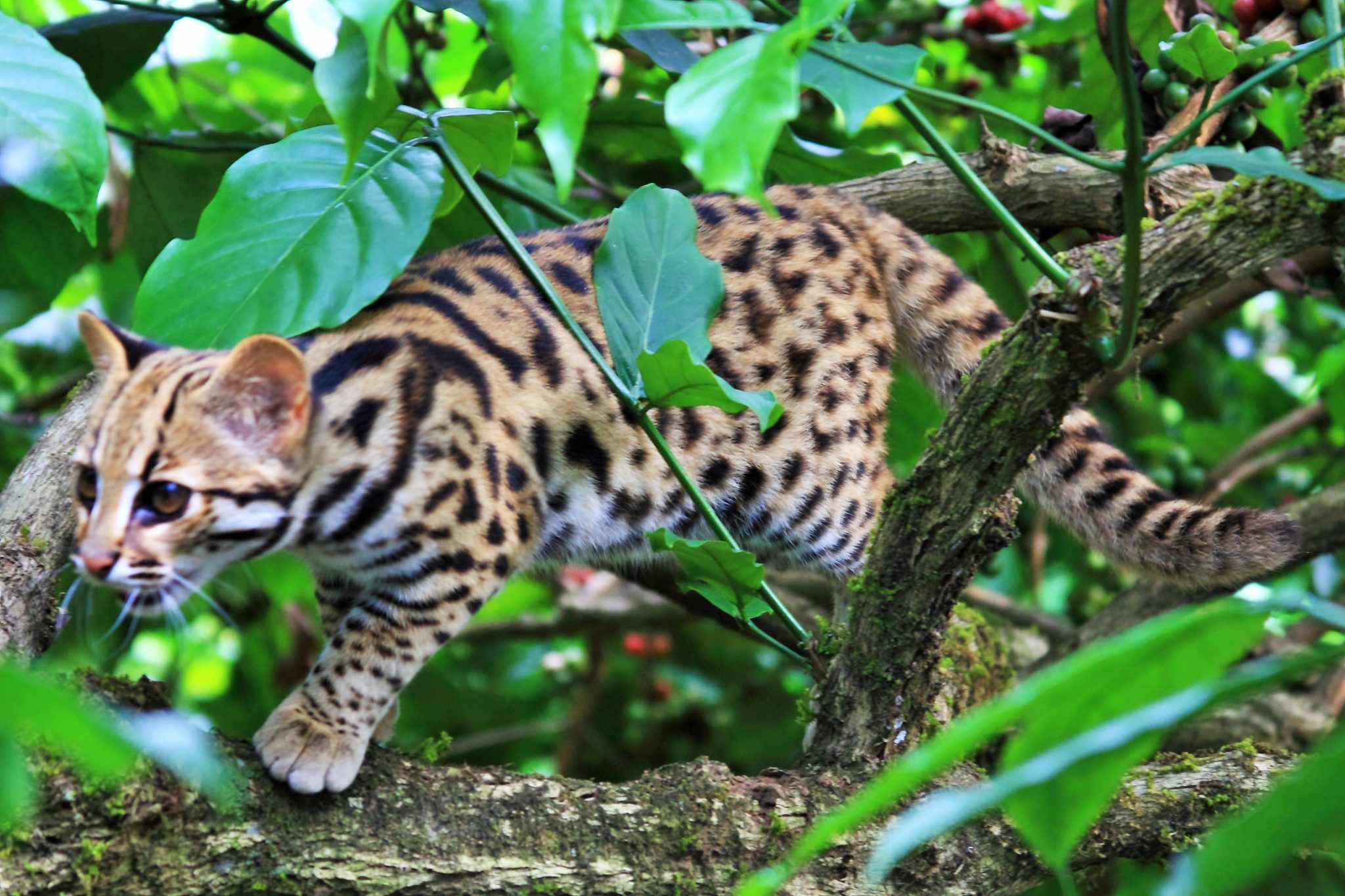 This article throws light on the Leopard Cat, whose numbers are alarmingly declining. The leopard cat's name is derived from the leopard-like spots prevalent in all subspecies, but its relation to the leopard is distant.
Scientific Classification
Kingdom: Animalia
Phylum:   Chordata
Class:      Mammalia
Order:      Carnivora
Suborder: Feliformia
Family:    Felidae
Subfamily:Felinae
Genus:     Prionailurus
Species:   P. bengalensis
Binomial name
Prionailurus bengalensis
(Kerr, 1792)
In Kannada Language it is often referred to as huli bekku.
Description
Male/Female
Both the male and female differ in size. Males are larger than females. The leopard cat is not a big cat like a leopard but looks similar to that of a domestic cat, but more slender, with longer legs and well defined webs between its toes. Leopard cats have a small head with a short muzzle and round ears. There are differences in coat length and color based on local environmental conditions. In fact the ears and markings are well defined in some species .However variation can also be observed in other species. The size and shape of the black markings covering the body and limbs are also highly variable; the spots sometimes form lines along the neck and back. Often there is one stripe running along the length of the body. The tail is about half as long as the body, spotted. Their body and tail are covered with rosettes and their tail is often ringed at the tip.The ears have black backs with a white central spot and the face is marked with two dark stripes on the forehead. The cat has two narrow black cheek stripes enclosing a white spot. The irises are deep, golden brown to grey.
Weight:    1.6-8 kg
Body length:    45-65 cm
Tail length:      20-30 cm. The tail is about half as long as the body.
Longevity:       up to 13 years
Litter size:       2-3 cubs
Distribution/Range
The natural range of Leopard cats is South and East Asia. The species is distributed across vast territory, stretching southwards from the Amur region in the Russian Far East to China, south-east to the Korean Peninsula and south-west to Indochina, reaching the Philippines and the Sunda islands of Indonesia; then westwards, to the Indian Subcontinent and northern Pakistan. It is found throughout the warmer tropical forests of Southeast Asia all the way to China and Korea.
Range
The leopard cat occurs over a wide elevation range, from sea level to >4,000 m elevation, the latter being in the Himalayas. Their home range usually incorporates both a source of flowing water and forested areas.
Breeding
It has been known to breed in coffee plantations in southern India. It has litters of 2 to 4 kittens and the gestation period can vary from 65 to 70 days. There is no fixed breeding period in the southern part of its range; in the colder northern parts it tends to breed around March or April. The eyes open at ten days old, and start to eat solid food at 23 days. If the kittens do not survive, the mother can come into heat again and have another litter that year. Leopard Cats usually pair for life and raise their cubs together for about 7 to 10 months. Full maturity is reached at 18 months, but in captivity, the male can become ready to breed at 7 months, and the female at 10 months.
Diet/Feeding
Leopard cats are ambush predators, feeding on a variety of small prey including mammals, lizards, Crustaceans, frog's Small fish, aquatic insects, Algae, shrimp, and other invertebrate's, amphibians, birds and insects. They generally come out at dusk and hunt along the edges of streams and water bodies. Unlike many other small cats, they do not "play" with their food, maintaining a tight grip with their claws until the animal is dead.
Habitat
We have observed the leopard cat inside coffee forests only thrice in over three decades because it is very shy and rarely comes out during the day. This cat species can be observed in both densely wooded forests and scrub forests. At times it can be observed in grasslands too. Since it is well adapted to a number of habitats, one can find the leopard cat in secondary growth woodland, semi-desert, and agricultural regions, especially near water sources. Overall these cats can be found in coniferous forest as well as tropical and temperate forest.
Ecology and Behavior
Although classified as nocturnal, they are occasionally sighted during the day. Leopard cats are solitary and are found in pairs during the breeding season. They are exceptional climbers. However, they usually are found on the ground.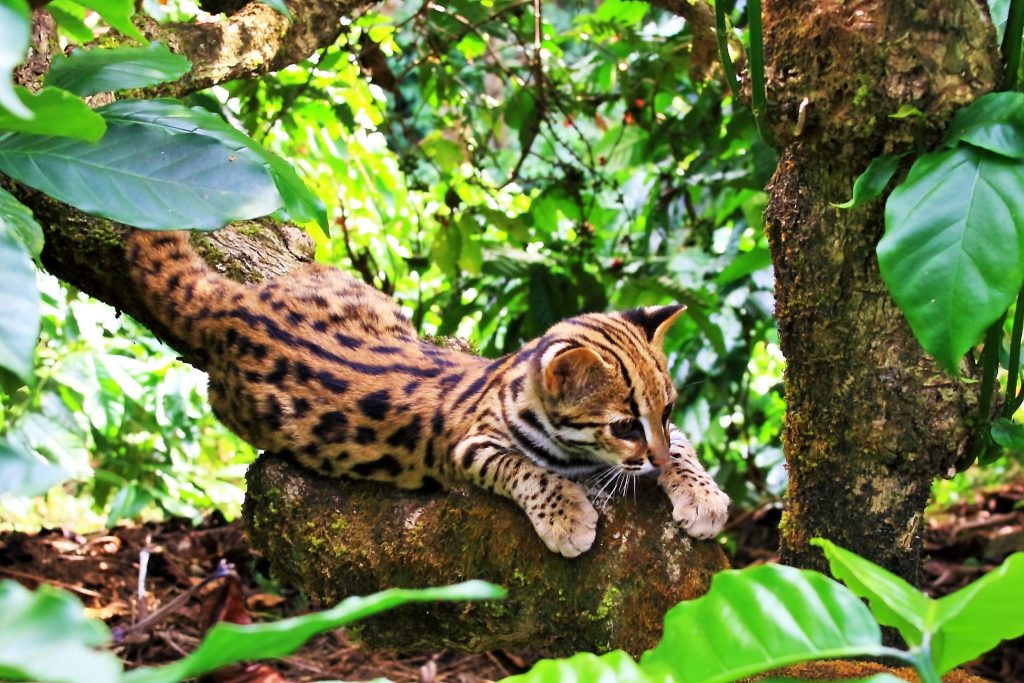 Territory
In order to define its territory, the Leopard cat either uses scent-marks or scratches trees within its home range. The size of the animal's territory may vary, depending on factors such as the amount of available habitat and the level of resource competition on a given territory.
Reproduction and development
The breeding season of leopard cats varies depending on climate. Litter size varies between two and three kittens. Kittens open their eyes by latest 15 days of age. Within two weeks, they double their weight and were four times their birth weight at the age of five weeks. At the age of four weeks, their permanent canines break through, and they begin to eat meat. Captive females reach sexual maturity earliest at the age of one year and have their first litter at the age of 13 to 14 months.
Threats
The species is threatened by habitat loss and hunting in parts of its range. Demand for the fur coat in Japan and a growth in demand for certain parts to be used in traditional medicine in Asia means the number of leopard cats being killed is rising. Forest fragmentation and erection of mini dams in sensitive breeding sites has resulted in population decline.
Lifespan/Longevity
In the wild, leopard cats have an average lifespan of about 4 years, and have been known to live up to 20 years in captivity.
Conservation Status
Least Concern (IUCN) However, our observations point out that in many sensitive areas of the Malnad, there is a significant decline in Leopard Cat population because most of the breeding grounds are already or on the verge of destruction.
Personal Observations
Depending on the elevation, season and type of forests, the leopard cat fur varies in color, so also the size. Inside shade grown ecofriendly coffee forests the three sightings of leopard cats in three different seasons showed a remarkable change in color of the coat. During monsoon , the coat is much lighter when compared to the caot in summer.In the tropics, its fur is ochre or yellowish-brown with white underparts, while in the northern part of the species' range, leopard cats have greyish brown thick fur and are also larger and heavier than the ones in the south. The size and shape of the black markings covering the body and limbs are also highly variable; the spots sometimes form lines along the neck and back. Often there is one stripe running along the length of the body.
Areas of Concern
Scientific literature points out that little is known of the mating system of leopard cats due to their low relative abundance and their solitary, nocturnal tendencies. Male territories often overlap with those of multiple females, with whom the male tries to mate with.
Ecosystem Roles
Leopard cats are predators. They prey upon a number of small vertebrate species, such as rodents, possibly helping control pest populations.
Conclusion
Year after year, Indian shade grown coffee forests are losing their primary canopy due to deforestation. Despite the fact that the forest cover is not a decisive factor for these animals, habitat loss and fragmentation has resulted in a sizeable decline in the Leopard Cat population. Also, the leopard cat in many places lives close to human habitation and kills poultry and other domestic birds. Hence, Planters lay traps to catch and kill the leopard cat. These animals are also interbred with domestic cats, yielding a species called Bengal cat, which is globally kept as a house pet. All these factors combined has significantly reduced the leopard cat population. Effective measures need to be taken to protect the leopard cats habitats and Planters need to be enlightened on the very important ecological role these animals play in the coffee ecosystem.
References
Anand T Pereira and Geeta N Pereira. 2009. Shade Grown Ecofriendly Indian Coffee. Volume-1.
Bopanna, P.T. 2011.The Romance of Indian Coffee. Prism Books ltd.
Leopard cat Prionailurus bengalensis