Shade grown Ecofriendly Coffee Plantations house a wealth of biodiversity because the entire stretch of coffee forests support different specialized habitats, both micro and macro for all types of flora and fauna.
This is evident from our work spanning three decades, mapping the biodiversity of coffee forests in different agro climatic regions.
This article is unique because, for the very first time we have tried to study the behaviour of spiders.
Spiders are believed to inhabit almost every coffee Agro climatic region without any exception.
Spiders are relatively versatile and they do well in all types of habitat, irrespective of altitude and temperature differentials.
They are of great value to the multi diversity coffee environment.
The order Araneida contains the spiders. We presume they are generally beneficial, since they feed mainly upon insects.
We are exploring the possibilities of using spiders as biological control agents in the reduction of pest populations.
The essential difference between biological control and natural control is merely that in biological control natural enemies are encouraged and disseminated by man.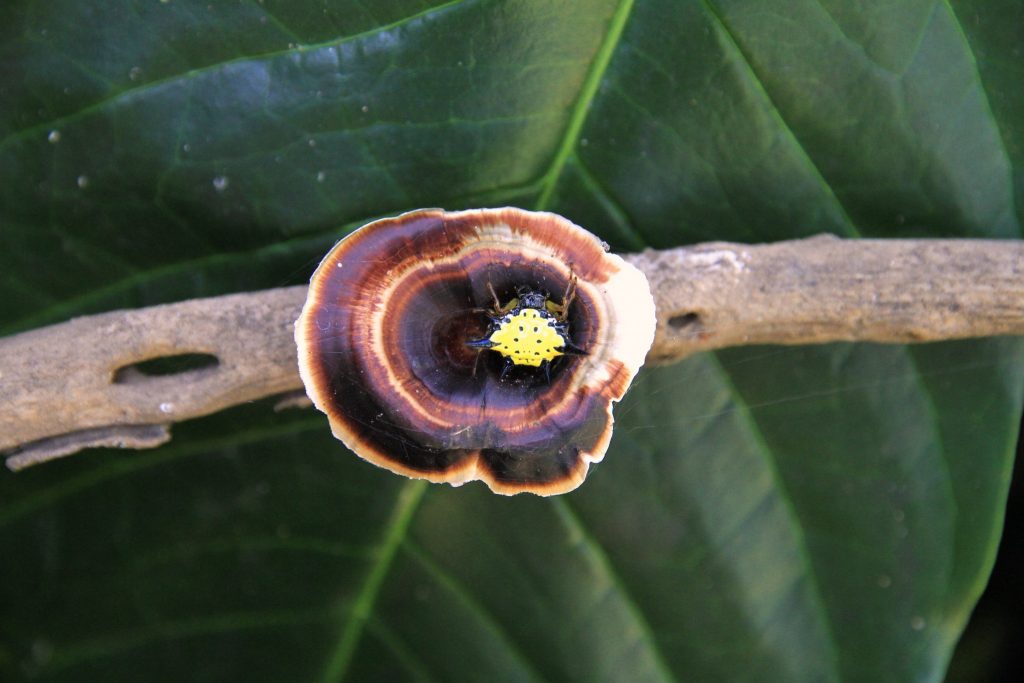 It is important to understand that almost all biological control programs involve searching for parasites and predators of an introduced pest in the original habitat of the pest.
We have documented various spider species. They come in all shapes and sizes. Some are big, some are small and others are microscopic.
The colours too vary. A few are brightly coloured and a few are pale in colour.
Coffee Plantation Ecology
This article highlights the role of spiders and their importance in food chains, food webs and most importantly balancing the web of life. Spiders have a profound impact on the environment they live in.
We have monitored spider webs in all coffee blocks and are of the opinion that the natural habitat of spiders generally consists of its food sources in the given natural surroundings.
One needs to understand that the coffee ecosystem is pretty complex and can provide multiple environments from one coffee block to the other.
However, the elevation where coffee is cultivated plays a significant role in the establishment of spider populations.
In short, topography and climate play a crucial role in the build up of spider populations.
Different species thrive well at an elevation of 800 metres right up to 1250 metres main sea level.
We have not studied in detail the different spider species but our observations point out that each species of spider has evolved to occupy and adapt a specialized ecological niche and are capable of tolerating variations in climate.
The behavior of each species may vary depending on a host of factors like topography, cultural practices, type of mixed cropping and variety of heterogeneous tree populations.
The shape and size of the spider webs varies from species to species. Some species, for instance, prefer a spider habitat that allows for the building of simple webs laid out on the coffee bush and others build a funnel shaped web on coffee leaf litter.
Some others build large and complex net like webs attached to trees.
In particular the ability of spiders to survive in huge numbers on moderately little food gives them an edge in maintaining viable populations even in extreme environments and this single factor in adaptability can play a pivotal role in using spiders as bio control agents.
We have come across literature where some spiders are being promoted in the battle against agricultural pests. Linyphiids against aphids in wheat fields in the UK and Pardosa ramulosa in California where it has been shown that 20 spiders per square metre can reduce leaf hoppers in rice fields by up to 90%.
We do hope our preliminary work on spiders as biological control agents will enthuse the Research wing of the Coffee Board and they in turn can conduct experimental trials on the role of spiders in controlling pest populations.
Observations with respect to Spider Behaviour
Spider population is very high in coffee forest blocks where composting is regularly applied.
Drastic reduction in spider population in blocks where chemical fertilizers are applied.
Maximum population observed during the months of June to January.
Coffee blocks close to virgin forests have high population of different spider species.
Nill or minimum spider species and their populations in coffee blocks where weedicides and chemical sprays are regularly applied.
Very high spider population and species diversity in blocks having heterogeneous tree population.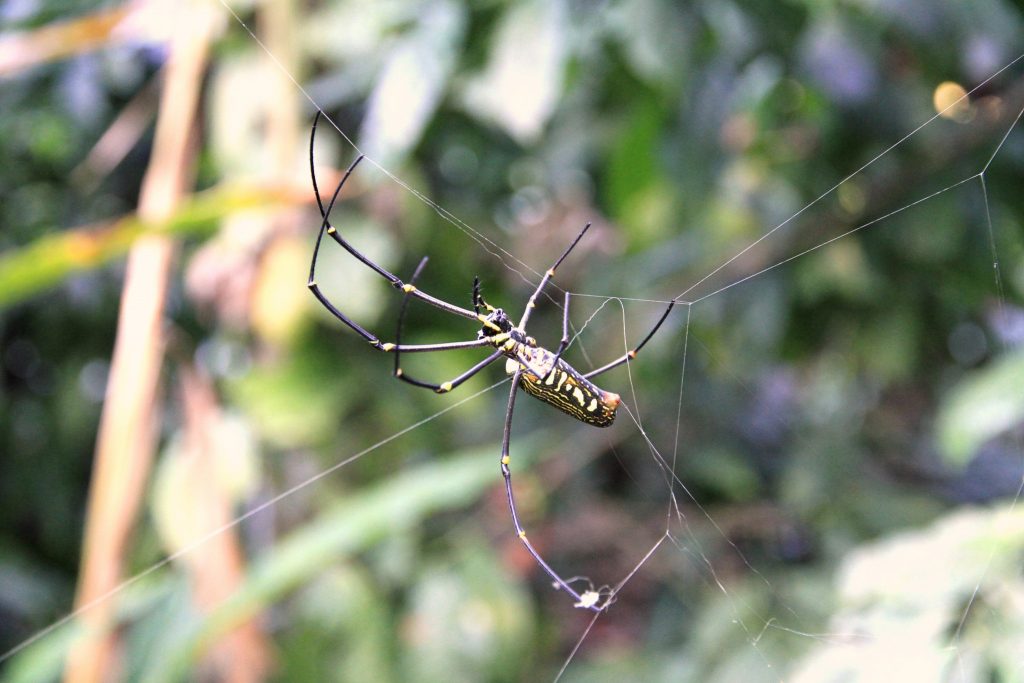 Species diversity in coffee blocks interspersed with multiple cropping like oranges, cardamom, pepper, arecanut , Robusta and Arabica species.
Population trends can be reversed. ie. In blocks where regular application of chemical fertilizers is practiced and having statically insignificant spider populations, customary application of compost will help in build up of population but will take time (2 to 3 years).
Our observations point out that there are different species of spiders occupying different ecological niches right from underground dwelling spiders to tree top dwelling spiders.
Coffee blocks adjoining paddy fields, streams, rivulets and water bodies have a sizeable population all year round.
Depending on the habitat, our studies have clearly pointed out that ground dwelling spiders are not territorial but can co habit with similar species at close distances.
Tree dwelling spider populations are indeed territorial and generally have a safe distance of 500 metres or more from each other.
We were unable to correlate the population dynamics of spiders, the number of species with the health of coffee ecosystem. In simple words, coffee blocks having high population of spiders need not necessarily be free of pest and diseases.
Spiders which had their web exposed at a height of 10 to 12 feet between tree branches were untouched by birds or other prey.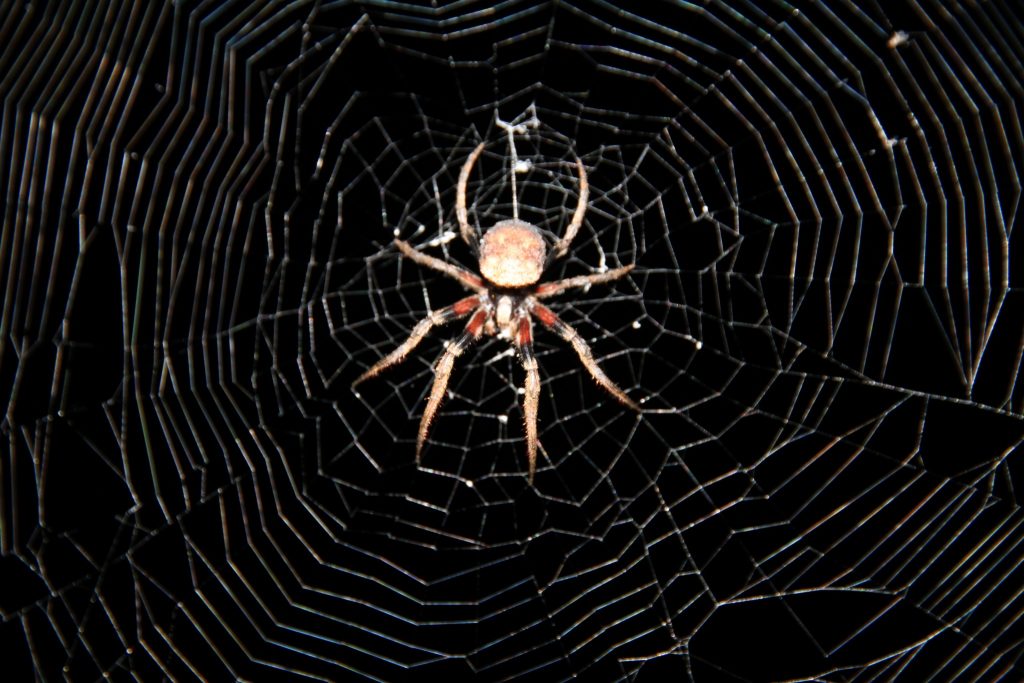 We have noticed that most of the spider species inside coffee blocks eat all types of insects and not only pests. ie. They eat both beneficial and harmful insects.
Advantages of Biological Control
Biological control has the potential to keep the pest population below the level of economic damage.
If Biological control is successful, it becomes self sustaining and integrated into the normal environment of the control area.
Biological control tends to be particularly useful on multi crops where complete control may not be required or where chemicals are not required.
Leaves behind no toxic residue or chemicals in the food chain.
Disadvantages of Biological Control
Establishment of insect control agents of sizeable populations is no easy task.
Even if the beneficial insect populations are multiplied in the laboratory, there is no guarantee that they will adapt to the new environment.
Takes time for the released insect to establish and stabilize and act on the pathogen.
Degree of control has not often been obtained to the farmers satisfaction
Consumers often look for a perfect product on the supermarket shelf and the farmer resorts to chemical control where by the biological control agent is killed in the process
 Conclusion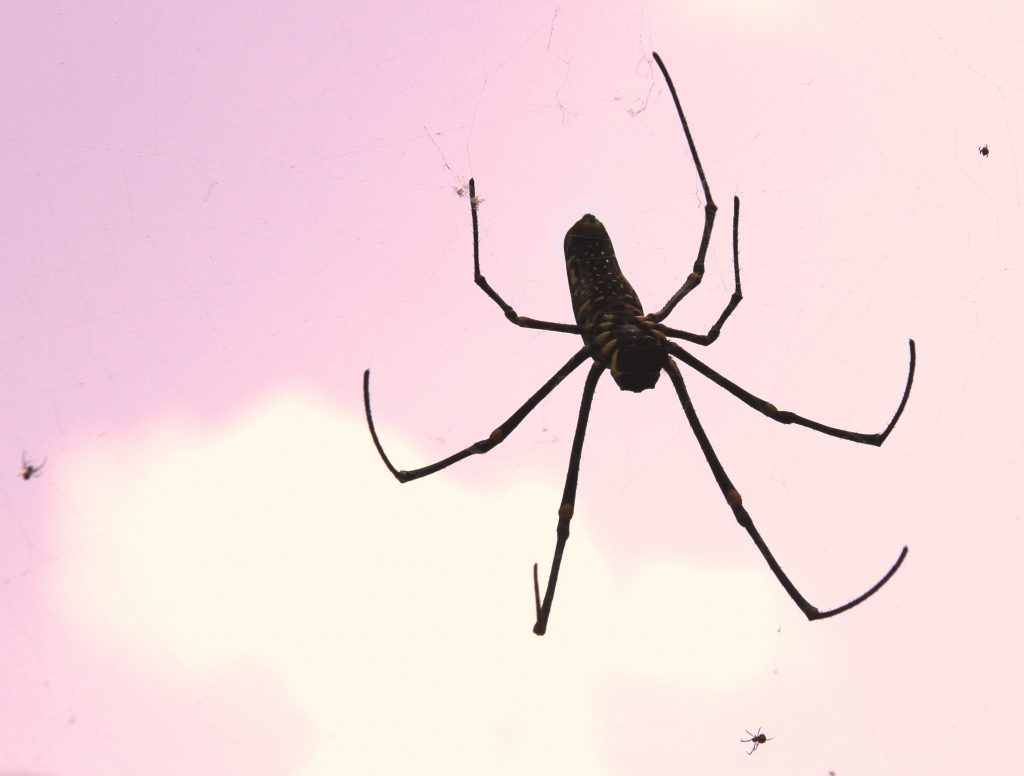 Worldwide more and more consumers are aware of the dangers of residues of synthetic chemicals in foods and natural beverages.
Off late, due to the impact of global warming, Pesticide residues in coffee are on the increase at an alarming rate.
The European Union and the U.S. Department of Agriculture has laid out stringent guidelines on the permissible limits of the presence of chemicals to safeguard health.
One way of tackling this problem is by using insects as biocontrol agents.
References
Anand T Pereira and Geeta N Pereira. 2009. Shade Grown Ecofriendly Indian Coffee. Volume  0ne.
http://www.wisegeek.com/what-is-in-a-spider-habitat.htm#didyouknowout
http://www.sedl.org/scimath/pasopartners/spiders/lesson6.html
http://www.earthlife.net/chelicerata/s-ecology.html
http://www.spidersworlds.com/spider-habitat/